Skin is the most important part of our body. It is not only the largest organ of our body but it is also a vital covering for the essential organs of the body. A healthy skin is the representation of a healthy body. It refers to your personality and mind status. In order to have fair, youthful and fresh skin, you need to take a lot of measures and practical steps. You should take care of it from dust, polluting agents and ultra violet radiation that is coming from sun every single day. You probably know about the negative aspects of the sun radiations and rays. If you are exposed to the sun for too long, you can get skin cancer, pre mature aging, wrinkles, blemishes, age spots and appearance of moles on the skin.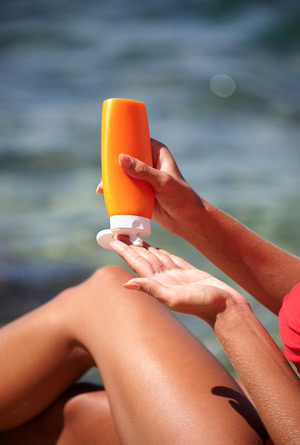 However, you should know the importance of applying sunscreen because it protects you from the excessive ultraviolet radiation that can influence on your immune system. Sunscreen also helps in reducing the skin inflammation and darkening. Protection and skin enhancement features have made it even more compelling. Importance of applying sunscreen also includes preventing sunburns and inflammations.
You should apply sunscreen to your skin everyday before you step out of your house. It will make your skin smooth, soft and firm preserving it from getting dull, brittle and aged. Your skin will remain young and fresh while you enjoy all of your outdoor activities. Some of the sunscreens have moisture included in them which keeps your skin even more soft and gentle. Sunscreen can be used in all seasons, for every outdoor event. It is not something particular you have to apply.
You should buy a sunscreen which suites your skin type though. Depending on the nature of your skin, the sunscreen represents its intensity. You should understand the way it works in order to get the benefits out of it. It is provided with different SPF numbers and levels which are abbreviated as sun protection factors. It is the representation of the time which takes place the skin to cure and heal which is caused by sunburn. You should also know the differentiation between ultraviolet B and ultraviolet A. Shorter and longer ultraviolet wavelengths are designated through these letters respectively. Both have adverse effects but the longer wavelengths tend to penetrate the skin cells and tissues which are really damaging and carcinogenic.
You should apply sunscreen to your skin after properly washing your face and perspiration. Your skin needs to be cleansed and moisturized for routine work before getting protected. Mostly the recommended SPF for the skin is 15; it efficiently works on the skin in protecting from sun and ultraviolet rays. Determine your skin type and see what SPF sunscreen is supposed to show outcomes; if your skin is sensitive and irritable to chemical compounds, make sure you buy a simple or natural one to avoid allergic reactions.