Huge pink flowers and attractive leaves make Mimosa a perfect ornamental tree. They have a reputation of being attention seekers as they can easily entice most eyes out there by their sheer presence. The best part is that Mimosa trees grow very rapidly, with bare minimum maintenance on your part. They also attract lovely butterflies and other chirping birds. You will love planting this tree!
Unlike other trees, Mimosa tree has a very short lifespan. On an average, Mimosa tree survives for about 15 years, and they can grow up to 20-30 feet tall. With proper care, you will be blessed with an attractive Mimosa tree, which can grow up to 35 feet. If you are intrigued by the idea of growing your first Mimosa tree, then let me walk you with the process of growing one.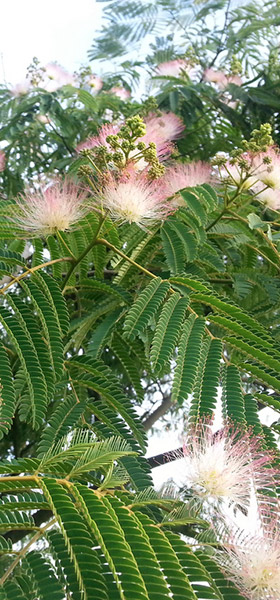 First and foremost, you need to dig a shallow hole in an area which gets sun rays for few hours on daily basis. Without sunlight, the tree won't blossom. Once you have chosen the spot, you can plant the Mimosa seed inside the shallow hole. Make sure that the soil is well drained as Mimosa seeds can grow in any type of soil as long as they are well drained.
Also, don't plant them in a crowded place. Your best bet would be to allow space for the Mimosa tree to grow and spread. Allowing 25-30 feet space around the tree would work for you. It's in your best interest to use acidic fertilizer on the soil to ensure that the budding tree stays immune from fungus and pests.
It's imperative that you water the tree sparingly. Mimosa tree won't do well with excess watering. They need to be watered only during dry spells. Such a condition would demand watering once in two weeks for not more than 10 minutes. The key is to use enough water to moisten the soil. Anything more than this can destroy Mimosa tree!
Fertilizing the tree during early spring is a great idea as well. One needs to apply the fertilizer at the base of the tree and water it for about 10 minutes. Also, trim the tree once in a year, especially during the spring. Get rid of the infected leaves and extended branches.
One can gather all the Mimosa tree's seed pods from the garden to avoid re-plantation or for planting them at some other location. Seeds pods will grow by themselves, if you don't pick them up.
Remember, Mimosa trees can create great amount of natural debris, so it's in your best interest to plant them at a distance from other trees. Also, make sure that your tree does not cause trouble to your neighbors. Falling seedpods from Mimosa trees can often create tension between you and your neighbors, especially if you don't share good relationships with them.
In conclusion, planting Mimosa tree can be a great experience in itself. The exotic fragrance and beauty pays off big time for all the efforts incorporated for growing this beautiful tree.