Sugar gliders are fantastic pets, and are at once exotic and unusual while remaining very cute and friendly. Like all exotic pets however, it is important that you are careful with your sugar glider care and that you attend to their specific needs. Fortunately, sugar glider care is not particular difficult once you know what you are doing.
Firstly, it is important that your sugar glider has a fairly large cage – at least 30'' x 18'' x 36''. The reason this is so important is that, as the name suggests, sugar gliders like to glide short distances. What their name doesn't suggest however is that they also enjoy to climb, and hang and generally monkey around. Thus your cage should also include hanging food dishes, a hamster bottle, climbing ropes, vertical branches and other toys. One great item for any sugar glider is the 'wodent wheel' which ensure they get a lot of exercise. The cage itself should also be wire in order to allow for easy climbing. Apart from anything else, helping them to be able to climb, glide and swing will be very entertaining for you and will help you to get the most out of such an agile and active pet.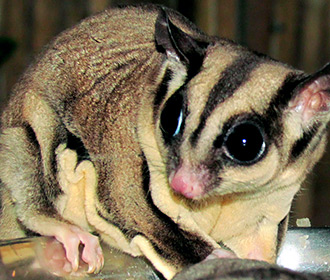 The other important aspect of sugar glider care is diet. Here it is important that you get your sugar glider an equal helping of fruits (as well as vegetables) and protein. Keep your sugar glider happy by varying its diet and cutting items up small before you feed them. Fruit and veg options include apples, pears, cantaloupe, sweet potatoes and more, while for protein opt for turkey, mealworms, crickets or boiled eggs. It is also a good idea to leave a small amount of dry food in the cage that your sugar glider can eat throughout the day. Ask your local pet store for advice or shop online. One great option is 'wholesome balance chicken and brown rice blend'. Avoid cheap dry cat food as this can cause UTI in sugar gliders (as it can in cats in some cases). Also ensure that you remove all uneaten food at the end of the day to avoid attracting bacteria.
Finally make sure you clean out your sugar glider's cage regularly. They also need a nesting box to sleep in during day time which should be out of sunlight and bedded with some tissues (unscented) and corncob bedding. For the bottom of the cage you should also spread some corncob, cedar or pine.
The rest of sugar glider care now is just the fun bit – getting to know your sugar glider and bonding with your new pet. Encourage them to climb around your body by placing food and treats on your clothes. Some people also like to bond with their sugar glider by leaving clothes in the cage overnight to acclimatize them to their scent. Do this successfully and you should have made a new friend.
Last Updated on