London's Commitment
When bidding for the 2012 Summer Olympic Games, London vowed to create an eco-friendly environment for the Olympics. They claimed that they wanted to host the greenest Olympics in the history of the Games. After winning the 2012 Olympic bid, London began designing the 500 acre Olympic Park with the goal of reducing the carbon footprint by at least 50 percent. The question remaining is will the 2012 Olympics be the London Olympics – Green Olympics?
Going Green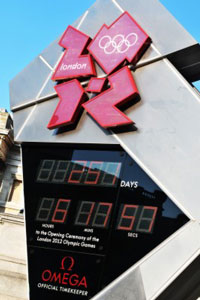 The London bid for the 2012 Olympics vowed to try to reduce the carbon emissions by 50 percent. They plan to largely accomplish this by generating as much energy on site as they are able to. Their goal is to have 20 percent of the energy come from renewable energy sources. They are also encouraging visitors to use better means of transportation that will help reduce carbon emissions. They are encouraging spectators to walk or ride a bike to the events when possible and they have created an extensive public transportation system. The hope is that less people will drive themselves to the Games which will cut down on the emissions.
They also want the London Olympics to greatly reduce the amount of waste they send to the landfill. They will offer lots of recycling opportunity for visitors and try to educate them on the benefits of recycling. The London Olympic committee also plan to have at least 20 percent of their building materials coming from recycled materials. After the Olympics, at least 90 percent of the material used in the buildings that are set to be demolished will be recycled.
The buildings in Olympic Park are being designed to be at least 25 percent more energy efficient by installing energy reduction materials like solar panels. Water usage will also be reduced by at least 20 percent by simple strategies like collection of rainwater. Will all of these extra environmental-friendly steps be enough to make the 2012 Olympics the London Olympics – Green Olympics?
After the Olympics
After the Games are over in August 2012, London is committed to leaving the land more environmentally sound than it was before they built there. The plan is to transfer it into one of the largest parks in Europe. Will they be able to have history remember the 2012 Olympics as the London Olympics – Green Olympics?
They plan to provide the community with 50 km of new cycling paths and 30 km of hiking trails. This is meant to promote the natural environment and healthy living. They also plan to keep 45 hectares of natural habitat within the area and erect 525 bird boxes and 150 bat boxes. This is done to promote the original habitat of the area. Native trees to the area will also be planted both before and after the Olympic Games. These tree species include oak, ash and birch. Whether this is enough to make the London Olympics a Green Olympics is yet to be seen.