Introduction to Muay Thai Trainers
Muay Thai is a special type of combat sport that originated in Thailand centuries ago as a form of self defence. One theory suggests that Siamese soldiers learnt it to defend themselves in the event of becoming unarmed. Of late there has been a renewed interest in this art form in many parts of the world. This martial art is a little different from kickboxing and western type of boxing in the sense that a boxer makes use of eight limbs instead of two as in boxing and four as in kickboxing.
Training in Muay Thai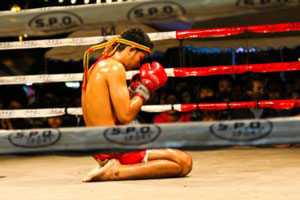 Apart from the hands and feet, Muay Thai boxers also make use of their elbows and knees which makes it possible to employ some deadly moves if the boxer is agile and nimble footed. This makes for some interesting moves that are appreciated by the crowds. In the age of the internet, you can get to watch a lot of videos of Muay Thai online, but if you are actually interested in getting the best training in this combat sport, you need to go to the place where this sport originated – Thailand.
Muay Thai is one sport that requires a lot of agility, speed and endurance from anyone who wishes to excel in this special martial art. Though it is possible to learn the basics of the sport and some of the techniques at home, you can never test the effectiveness of what you have learnt on your own unless you get to compete against others. This is where good trainers come in handy. Though the sport has become very popular in many parts of the world, it is difficult to get yourself good trainers. There is no doubt that training camps are today being organised even in the western world, but often the quality of the trainers there leaves much to be desired.
Intricate Techniques
One must understand that it is not just the throwing of your limbs in Muay Thai. The sport involves a lot of graceful techniques that take a lot of time, patience, and hard work on the part of any person who hopes to master the art some day. These techniques cannot be learnt in a day and slow and steady progress under the watchful eyes of an experienced trainer is a must if you really wish to excel in this martial art form. And what better way than to learn from the masters themselves who can be found in the country where the sport originated and prospered for centuries?
Why Thai Masters?
Thai trainers are the best when it comes to learning the nuances of Muay Thai as they have been brought up living the art form day in and day out in contrast with western trainers who have learnt this combat sport as a profession from Thai masters themselves. Having practiced it since childhood, Muay Thai is in their blood and they have a passion about the art which is not to be found in trainers from other countries. This boxing art form is highly revered in Thailand and Thai trainers are proud of this, which is why it makes sense to learn the sport from them.