Introduction to Muay Thai Training Camps
Muay Thai is an exciting martial art form from Thailand that has taken the world by storm of late. Different from other martial art forms from South East Asia, such as Karate, Kung Fu etc. Muay Thai boxers make use of eight limbs such as the hands, feet, elbows and knees allowing for some very agile and exciting moves which have made the combat sport very popular in many parts of the world. If you are impressed by this very exciting martial art form, and wish to learn it either as a hobby or wish to become a pro, you've got to learn the tricks from the masters themselves, and for that you need to attend special Muay Thai training camps that are organised in various parts of Thailand regularly.
Why Go to Thailand?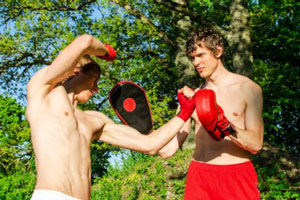 Of course, you may very well ask why travel thousands of miles away to Thailand in this age of fast means of communication such as the internet. And when the sport has become so popular, why not attend a training camp at a place closer to you. The answer to this question lies in the high esteem the sport is held in Thailand. It is almost a religion in the country and people are very passionate about the sport. The mass appeal that Muay Thai enjoys in Thailand is something that has to be seen to be believed. With such craze and reverence for the sport, you can expect to get the best feel about the sport that you are so excited to learn.
The X Factor
With the sport becoming popular in many parts of the world, it is natural to have all the facilities for training. But you can never have the same feel, the ambience, the X factor, which is always missing when you choose to learn the martial art form in any other country.
There are lots of good quality Muay Thai training camps in Thailand. You can expect to get the best training under the guidance of some of the best and most experienced trainers in these training camps. Below is a brief description of some of them.
Tiger Muay Thai Camp
This is a training camp that offers the best facilities and is located in Phuket. No matter your level of understanding, you are most welcome in this camp. There are many martial arts that are taught here but if you wish to concentrate on Muay Thai, there is a provision for exclusive training in the sport.
Rawai Muay Thai Training Camp
This is another very popular Muay Thai training camp in Thailand. Here fighters live and train at the gym. Training goes on six days a week with six hours of training every day.
However, if you cannot afford to travel all the way up to Thailand, there are training camps in US, Europe and other locations worldwide that have excellent facilities and fantastic trainers. Many Thai people have set their own schools up in locations throughout the world offering an experience that is almost as good as that in Thailand.