Deciding what kind of hiking equipment you need can be a hard task to take up. If you don't have the right gear then it can turn your hiking trip into a nightmare it you aren't careful. Sometimes it can be as simple as making it an un-enjoyable time but other times it can lead to much more serious and disastrous problems that could endanger you or someone that you are with.
Get the Right Boots
The boots are the most important part of any hiking equipment that you will find. You need to know that you will have good footing and can move with ease. You will need to take into consideration what kind of conditions you will be hiking in, if you will be in the cold and rain or the hot summer this will make a big difference in what you want to choose.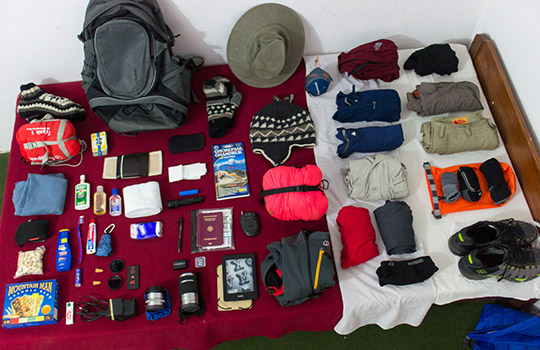 Make Sure That You Are Waterproof
While you can't actually make sure that you, yourself are water proof you can make sure that all your clothing is. You need to make sure that should the weather change at a fairly quickly rate you are prepared. You don't want to wear clothes that will weigh you down if they get wet, which means no jeans. We all love jeans and they can be very comfortable but they are just not practical when you are hiking. They will soak up all the water should it start to rain and make your clothes heavy and limit your movements.
Choosing the Right Backpack
No matter what the duration and length of you trip you will need to make sure that you have a good, sturdy backpack. You will need to plan for how long the trip is going to be, because this will impact exactly what size backpack you want and what you are going to need to take. Here are a few guidelines for you to follow.
• 3,000 cubic inches – usually good for a day trip
• 3,000-4,000 cubic inches – usually good for a weekend trip
• 5,000-6,000 cubic inches – usually good for a week's worth of gear
Safety Gear
Don't forget any safety gear that you are going to need. This can be anything from climbing gear to first aid. This can be a very important part of any trip; you need to make sure that you are prepared for anything that could happen whether it's the weather elements or something that could happen to one of the members of your party. It's a good idea to try and research what you will need and ask people at a local store if they can offer any advice.
Hiking can be a fun adventure many people do it for fun and some do it for the exercise. No matter what your reason for doing it you need to make sure that you are fully prepared to take on whatever happens to come your way. The safety of you and those with you will often times depend on what you remember or don't remember to bring with you when you are hiking.