If you have met someone that you really want to take out on a date but have been reluctant due to a tight budget then you may want to consider some place that you can afford to take her. There is nothing written in stone that say you have to spend a lot of money in order to go out on a date. There are many things that you can take someone to enjoy without having to empty your wallet in the process. Remember that the idea of a date is for you to get to know someone or to spend time with someone you like. You do not have to spend a fortune and make reservations and the most posh restaurant in town just to impress your date. The following suggestions are good places to take a date without having to empty your bank account in the process.
Dollar Movie Theater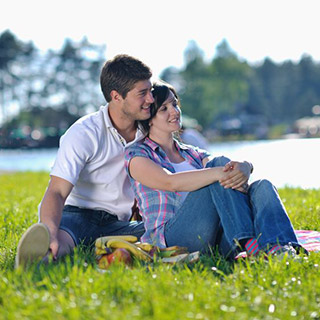 Almost all cities have at least one theater nearby that shows current films at a much lower price. Most of them show movies for anywhere from a dollar to three dollars a person. If you have been to the movies lately then you should be well aware of what a good discount this is. Mind you taking someone to a dollar movie may not be the best suggestion for a first date but it is a great idea for couples who are trying to save money or for someone going on a third or fourth date. The thing to watch out for at these theaters is the snack prices. They charge astronomical prices for popcorn, candy and soda.
Go to the Beach
If you live in a warm, coastal area then an obvious option for a date would be a day at the beach soaking in the sun and swimming. In addition, the beach usually makes a good night spot as well as there are usually bars and restaurants along the strip, depending on which beach you are going to. Keep in mind that if your date does not like the sun for some reason the beach during the day may not be the best prospect. However, if you and your date both love the ocean then this is a very inexpensive date that could definitely turn out quite nicely.
Have a Picnic in the Park
There is almost no one who will say they cannot stand a good picnic. Most everyone loves sitting in the park on a nice day sharing delicious food and stimulating conversation. Bring a blanket, a picnic basket and your most charming personality and you will have the perfect afternoon. The great thing about a picnic in the park is that it provides an excellent atmosphere for one on one interaction so getting to know each other is a given.
Go Out for Pizza
If you want to take your date out for dinner but still save money then pizza is the way to go. You can usually have a nice pizza dinner for two for less than $30.00 including the tip. Choose a nice pizzeria with a dimly lit atmosphere to set the mood for romance. It is very unlikely that your date will hate pizza but in the event that she does you can always order her a pasta dish instead. This makes a great first date as most everyone enjoys a good pizza pie.
Free Concert
Some cities have free concert events regularly. This is a very inexpensive date as the only thing you pay for is the gas to get there and possibly the parking fee. If you have some idea of the genre of music your date enjoys then you may be able to find a great band playing for free that you can take her to. Concerts are pretty good for first dates because there is no pressure to make small talk. In addition, some people are quite shy on their first dates so a good concert will surely help to loosen things up. If you are currently in a relationship and you just want to do a nice date night then finding out when your girl's favorite local band is playing and taking her will be a great surprise.
Roller Skating/Ice Skating
Sometimes ice skating at the pond or going to a roller skating rink is a pleasant change from the norm when it comes to dates. If your date is an active person then this will be a really fun activity for the two of you. Do not be worried if one of you is not a great skater, this will just provide more opportunities for you to catch each other.
Go to a Museum
If you have your eye on an intellectual girl then it would be a safe bet to assume that she would enjoy a trip to the museum. This is an ideal date for a couple who has already been dating for a little while but may be a bit of a stretch for a first date. On the other hand, if you know in advance that your date has shown particular interest in going to a museum then this will be a nice surprise for her. This is also a great ice breaker if you plan on dating a woman who has a child. Invite the child to go along as well and earn a few extra brownie points while getting to know the little one.
See a Laser Light Show
In most college towns there are planetariums that sponsor laser light shows. Usually these shows are set to music and are really intense. Going to a laser light show is an excellent date idea and it is usually very cheap. If there is no university or community college around you then you can check to see if there are any science museums that have planetariums.
Seasonal Festivities
If your date is occurring around the Christmas season then you can always take her to see a Christmas light display. Halloween offers fun in the form of haunted houses and this is also a great way to keep her nice and close for the evening. Depending on the season there is always something going on that you can find in your area. Seasonal festivities are good date ideas that you usually cannot go wrong with.
There are so many more great and inexpensive date ideas. A little bit of creativity is all it takes to choose a good date idea that will be kind to your wallet. You can even choose things like horse back riding, skiing, and a number of other outdoor activities that cost very little. The most important thing is that you have a good time and enjoy each others company.