Brooches are great accessories for embellishing plain garments, and the best thing is that you can make your own brooches using basic and easy-to-find materials. Handmade brooches can look just as attractive as the ones you would find in stores, but at lesser costs and with added personality.
The Making Process of a Fashionable Brooch
In order to make a lovely fabric brooch, you'll need thread and needle, safety pins, pinking shears, fabric, ribbons and buttons. Begin by cutting out a shape from the fabric using pinking shears. If you're not overly confident in cutting out the shape free-handed, feel free to make a template on a piece of cardboard and trace the contour on the back side of the fabric with a marking pencil. Cut the desired shape out of the fabric. It can be any kind of shape you want, including the basic round shape.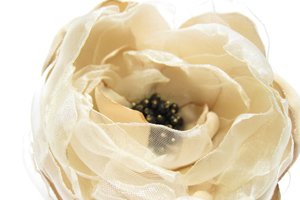 Next, think about how you wish to integrate the ribbons into your brooch. Once you have a clear picture in mind, cut the ribbons to the desired length, lay them onto the fabric background and sew them in place by using thread that has the same color as the ribbon. Sew on a button or more in a pattern that looks appealing to you. You can use contrasting thread if you want to add more color to the brooch. Afterwards, place a safety pin on the back of the brooch and secure it in place with thread.
Now that is one way of creating a fabric brooch, but if you want to use less needle and thread, there is another fun way of making a gorgeous accessory piece for yourself, one that is based on felt material.
Making a Fabric Flower Brooch Using Felt
Start by drawing a flower design onto paper. Once you find one you love, break the flower pattern into pieces by drawing each shape separately onto paper. The easiest flower design may comprise the basic flower shape followed by several round shapes of different sizes, starting from the largest to the smallest.
Take the paper patterns and pin them down on various pieces of colored felt. Cutting shapes out of felt can be tricky, so don't rush the process and use a pair of embroidery scissors to get the small shapes right. After you cut the shapes, you should have several bits of felt that you will lay one on top of each other. Put the flower shape as the base and add the circles, finishing with the smallest of circles on top. If you don't want to use needle and thread to sew them in place, use fabric glue to create the structural design.
Since you're using felt, you should use an added base for your brooch. Cut another shape out of the felt that can be of the same size as the flower shape, or slightly larger if you want additional contrast. Glue this last bit of felt onto the back of the brooch and finish it by sewing a safety pin. Fabric is an excellent and inexpensive material for creating brooches. So whether you choose simple fabric or felt, you will be able to make beautiful pieces for adding a fun and flirty twist to your outfits.