Adding some detail on a plain outfit and making a statement are some of the reasons why women choose to wear bib necklaces. These accessories are not only instant attention drawers, but they also look exquisitely beautiful and enriching when paired with outfit items that enable them to shine without being overshadowed by competing elements.
Bib necklaces are also extremely easy to assort. With a bit of thoughtfulness regarding the cleavage line, these necklaces can embellish all sorts of outfits, including the T-shirt and jeans combination, semi-formal wear and especially eveningwear and clubbing attires. When it comes to purchasing these decorative oversized necklaces, one thing is certain: although women can find these accessories in all sorts of patterns and colors, their cost is often times pretty disappointing. Many bib necklaces cannot be acquired with less than $100 or more, therefore a DIY bib necklace makes it a well worth trying challenge.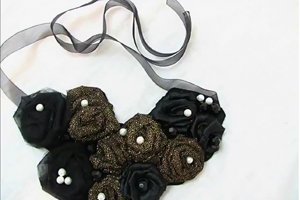 Creating a bib necklace yourself is not difficult at all. There are numerous online tutorials to get inspired from, yet many of them require sawing machines and skills that most women don't possess, especially if they're not used to making handmade fashion items. This DIY guide however is extremely easy to follow, and with a few rudimentary supplies, you can craft a bib necklace for yourself using your favorite embellishments, and at a fraction of the price.
The things you need include felt, ribbon, fabric glue, scissors, a fabric marker and gems or some other embellishments if you'd rather make the necklace less glamorous. Take a piece of felt and use the fabric market to draw a wide crescent-like template for your bib necklace. Cut the final shape from the felt with scissors, and also crop two strands of ribbon, making sure their length is identical. You can use whatever fabrics you want, but if you'd rather make it more spectacular and sophisticated, use a ribbon made of satin or velvet. You can set the length of the ribbons at various sizes, but don't make them too long as the felt part of your necklace should remain above or around your cleavage line. Attach the ribbons to the bottom side of the felt by using fabric glue, and let it dry completely. Be careful with the amount of glue you apply. Subsequently, cut the extra fabric, if any, and simply tie the ribbons around your neck.
Now, to the decorative part: you can use gems, pieces of glass, rosettes and all sorts of embellishments. To add more interest to your bib necklace, alternate your embellishments; don't use identical ones all over the felt. Arrange your gems on the fabric in the pattern you wish. If you're not feeling overly creative, browse for a few images of bib necklaces and draw inspiration from the patterns you like the most. To make it easy for you, start placing them at the center, and continue to the sides of the felt. Glue the gems properly and attach them with the fabric glue. After letting them dry completely, you can proudly wear your fabulous bib necklace.
There are many places you can purchase the items necessary for creating this accessory piece. And also, if you're not comfortable making your own felt, rosettes and any other element of your necklace, you can easily find premade pieces on websites dedicated on promoting DIY crafting.