Frugal Jewelry
Extremely light and fun to wear, feather earrings have already conquered the jewelry stores. If you like the idea of making your own jewelry pieces, a pair of feather earrings would be a good place to start as these are some of the easiest items to make, involving a few basic supplies and hardly any skill. Such jewelry pieces are not only extremely inexpensive, but they also look adorable and can be obtained in just a few minutes of work.
Another benefit of feather earrings is that they can be highly customizable, so if you had your eye on feather earrings for quite some time, but didn't find the exact type of feather or embellishments you desire, then you should definitely try DIY feather earrings.
Necessary Supplies for Making Feather Earrings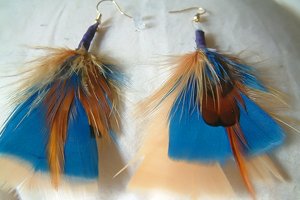 First of all you'll need some craft feathers for your earrings. Feathers can be found at your local craft store, and are available in a large variety of sizes, colors and patterns, including the hypnotizing beautiful peacock feathers or those funky patterned ones with charming dots and stripes.
The rest of the items needed for making your own feather earrings include earring loops which are often sold in bulk amounts at super low prices, bendable jewelry wire, earring hooks and needle-nose pliers. If you prefer to use additional embellishments rather than simply feathers, you can also purchase all sorts of decorative pieces such as beads, jewels, charms, chains, etc.
DIY Guide to Making Feather Earrings
Start by selecting whatever feather looks right for your earring. You can use more than one feather if you're feeling playful and would like to encompass contrasting feathers in your jewelry design. Most feathers come with pretty long stems, so you'll have to cut off the excess part until it's just a small part of the stem showing.
Take your flexible jewelry wire and cut it at the appropriate length. Keep in mind that this wire will be wrapped around the feather's stem, so leave the jewelry wire pretty long as you can remove the excess part later, after finishing assembling your accessory piece.
Next, take the wire, and wrap it once or twice around the base of the quill. The remaining wire should be then lined parallel with the stem of the feather and wrapped around it until the entire quill is completely covered. Afterwards, secure the end of the wire by pinching it to the top of the feather or simply cut it off with the needle-nose pliers. Take an earring hook and open the ring end with the pliers so that you can place the feather assembly onto the earring hook. Close it with the pliers, repeat the whole process for the second earring and you're all done.
If you wish to embellish your feather earrings, you can add lots of decorative items by placing a small ring through them and connect it with the ring of the earring hook. This way you'll be making fantastic-looking feather earrings in no time!