Girly girls get all of the guys. While a guy might enjoy hanging out with other lads and be more likely to watch football with them, when he comes home to relax and snuggle up he wants a girl who's girly for lots of reasons. Girly girls tend to be more relaxing and more of a calming influence as they are quieter and more gentle, they tend to be prettier and hotter because they spend more time on their appearance, and they tend to create soft gently environments. For a man, being around girly girls is a break from being with other guys and one that can seemingly immediately drop their blood pressure.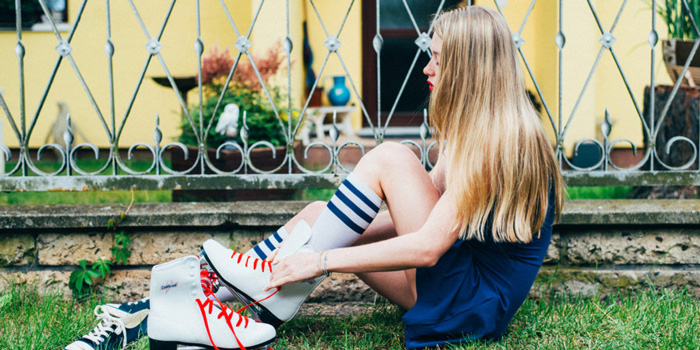 However lots of girls just aren't girly. They're not manly either (hopefully), but just don't have quite that gentle touch or those girly interests. These kinds of girls are often referred to as 'ladettes' and they're the kind who drink beer, laugh loudly and engage in arm wrestles. They're great fun and very admirable for sure, but most men are secretly thinking about how good these girls would look if they'd just let their hair down, wear some lipstick and a dress and become a girly girl.
So how do you do it? What are the requirements to being girly? It doesn't mean you have to collect Polly Pockets and My Little Pony, rather it generally refers to the way you dress and your appearance (though being gently in your demeanour will certainly help). Here we'll look at what you need for a 'girly makeover'.
Hair
First of all the easiest way to make yourself look girlier and more feminine is to make your hair look more girly. This means letting it down if you often have it in pony tails or growing it out to be at least shoulder height. Now either straighten it or curl it and immediately you'll look far more girly.
Makeup
The makeup is the other staple of being a girly girl, and if you're the kind of girl who completely shy's away from makeup then you are probably missing a few tricks that could make you look even more stunning. For a really girly look what you need is long eyelashes so use mascara or false eyelashes, smoky eyes so use eyeliner and eyeshadow, and full, shiny lips, so use a light gloss or a colour such as pink. If you want to look girly then pink lipstick or a lip gloss is more 'pretty', while if you want to look sexy and sophisticated then darker colours such as red or purple are more what you need. A blusher can also help to make your cheeks a little more rosy.
High Heels
If you never wear high heels then this is an immediate way to make yourself look more like a lady and less like one-of-the-lads-but-with-tits. High heels not only make your legs look longer, but also make your posture more confident and more feminine.
Accessories
If you want your accessories to be girly then you're looking at delicate jewellery like earrings and necklaces, as well as floaty scarves and pashminas. These immediately make you look 'softer' and thus more girly.
Dress
A dress is a very fast way to make yourself look girly and if you don't normally wear a dress then this is a very quick way to make your male friends' jaws hit the floor. There's no reason it can't still be practical and summary, but it immediately makes you look 'pretty' and like a girl. Floral patterns are a great idea. The dress should have a skirt and no sleeves, and if you don't go for this option then look for a frilly top and a short skirt. Showing a bit of skin will also remind everyone around you that you are indeed still a woman – in fact if you get this right it will be very hard for them to forget this point.