When you come to high school and become a freshman for the first time you will suddenly be a small fish in a big pond. You might well be used to being the big wolf on campus in previous years, but now you'll be among thousands more people than before making you far more anonymous immediately…
This also means there'll be more people who are better at you in their certain fields – more geniuses, athletes and everything else. So how do you stand out against such odds? Especially as you're now left without the full network of friends and acquaintances that you had when you were at school or college.
The New You
The great thing about starting a new at any new place is that you get to reinvent yourself for a new audience. No one here will know you, and any reputations or rumours you were trying to shake before will automatically be shed. Now then you can become a 'new you' and really improve on your old image.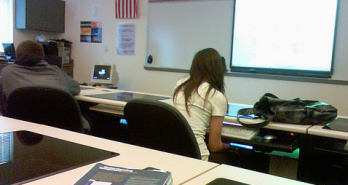 The important thing to remember here though is that the new you should not be the fake you. In other words if you try and put on a deeper voice or lie about your past, you'll find that people see through you and you'll start off with an even weaker image – not a stronger one. Instead then what you are trying to do is to highlight the best qualities of yourself and to minimise the worse ones. At the same time you can change the little superficial things that aren't a part of who you are, but are the things that tie the whole package together – for instance your clothing…
Look Your Best
One of the best ways to stand out then is to get a new wardrobe (new clothes look better for starters) and to try and dress as maturely but as individually as possible. For women it might be a good idea to get a professional makeover and hair cut and to try out a new look that way. For men a great piece of advice is to buy a cheap jacket from a suit and to wear this over your clothing. It's a great way to make yourself look smarter on all occasions. Also look into your accessories which make a bigger difference than you realise – things like your watch and your bag.
Another great piece of advice is to choose a trademark for your clothing – something that you always wear that can finish all of your outfits off. Remember that high school is a place where people experiment with their identity and want to stand out as unique, so having something that makes you more unique and individual across various outfits will be a great way to get the right kind of attention.
Get Stuck In
Now you need to get stuck in with the various events and activities and generally make yourself known. Even if you have the best style in the world, sitting quietly at the back of the class isn't going to get you noticed. You want to be a mover and shaker here, so make sure that you get yourself involved in sports, plays and productions, the student newsletter, plays and productions, events management… and really anything that will make you stand out and get noticed.
At the same time putting your hand up in class and answering questions will make you noticed. Don't worry about looking like a 'boff' or a 'nerd'. If you answer confidently and involve the class in your answers and questions then you will come off more a jock who has a lot of confidence – and that will make a big difference.
Lastly you should of course make sure to get yourself involved outside of school – to go to parties and outings and generally be seen around. The more people you mingle with and get to know the more you'll be noticed and the more people you'll open yourself up to.