Shih Tzu are small cute dogs that don't look like they could harm a fly. This then means that many of us make the mistake of thinking that they can get away with being aggressive and that we don't need to train it out of them.
However this is a big mistake and while your Shih Tzu might not be a threat to your health, it is nevertheless still important to make sure that they aren't aggressive and that they recognise you as in charge. For one this is important because while you may not be afraid of a little bad pup, your visitors and other people might and this can be very upsetting for them if they have to deal with a dog that is constantly growling at them. At the same time if they are aggressive to other dogs they might well get themselves into a fight that they can't win – so it's important for their safety too. And anyway it is simply not pleasant to have a little dog who you love growling at you every time you move – you're supposed to be friends.
How Does a Dog Become Aggressive?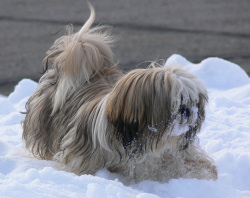 So the question is, how did your Shih Tzu get to be aggressive in the first place? Well there are a couple of ways. Firstly aggression can sometimes gradually occur as your dog grows up through play. If you dog bites and mouths you and you don't ever teach it to stop, then this biting can increase to the point where it is drawing blood and leaving teeth marks and it is then somewhat too late to stop it.
At the same time you might find that your dog is aggressive because it believes itself to be the leader of the pack or the 'alpha male'. Dogs are descended from wolves and they are pack animals as a result. Thus your dog will conclude that it's in charge if you pander to its every need and will use aggression to keep you in line. Lastly, sometimes aggression can be learned, and if you are very aggressive towards your dog, and to each other, your dog might simply learn the behaviour and might act out because it's unhappy.
Teaching Your Dog it's Place
While you might like to think of you and your dog as friends, you need to teach them where they stand in the pecking order and namely that you are in-charge. To teach them this you simply need to treat them as a dog – make them sleep on the floor, tell them off for bad behaviour and make them sit before you feed them. Don't respond to aggression by giving them what they want, but instead shut them away and ignore them until they behave.
Punishing Your Dog
You also need to remove bad behaviour by punishing it and it's important to start this early on while you're playing with your dog as a puppy. While you actually can teach an old dog new tricks (contrary to popular belief) it will nevertheless be much easier when they're still young – just as it was easier for you to pick up languages when you were a child.
If your dog bites you then – hold its mouth closed and shout 'No!'. Holding the mouth closed will tell it what it was it did wrong, and by hearing the word 'No' it will come to associate biting with being scolded and will thus learn not to bite.
Reward Your Dog
But the rest of your time should be spent petting your dog and rewarding it for all its good behaviour. Make sure you pay it attention and stroke it as often as possible. This will make your dog feel happy and loved and as a general rule a happy dog is a well behaved dog.