With a city this size it seems almost unimaginable to ask for some good places to meet singles in New York, but believe it or not this is a common question. Perhaps it is simply because the city is so large that virtually everyone is a stranger. The good news is that in a city that is over 304 square miles there is sure to be a member of the opposite sex with common interests who are also looking to meet singles! Following are a few ideas that you can start with, and from here you can perhaps come up with some creative ideas of your own.
Would You Believe It? The Internet!
It should go without saying that the Internet is an invaluable resource for meeting singles. Whether you live in a small town in Alaska or in the heart of Manhattan, there are online communities that have been established for just this reason. You don't even need to join an online dating service if you don't want to. Just seek out chat rooms that are geared toward singles in New York and strike up a conversation. Once you have built a rapport you can usually judge for yourself is this is someone you want to really get to know. Just be careful because there are a ton of predators out there (male and female!) that wouldn't think twice about doing some real damage.
Clubs in the Big Apple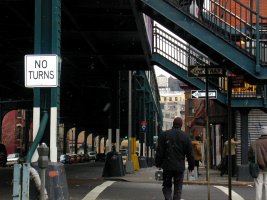 New York is one of the few major cities in the US that are famous for nightlife. In fact, it probably leads the pack. If you are looking for places to meet singles in New York then perhaps you should try ladies night! Usually entrance is free for ladies and they either get free or reduced prices on cocktails. Guys go there looking for single ladies and single ladies take advantage of ladies night because it doesn't cost much and because they know that guys are out there looking for them! It's a definite win-win situation.
Pubs and Bistros
Perhaps a step down from a bar or a dance club, there are a multitude of pubs and bistros in New York and these can be an exciting place to meet singles. They aren't quite as rowdy as a club but not as stodgy as a restaurant of café. (We'll get to those in a minute!) Many pubs and bistros serve pints of beer and have light snacks to eat as well as heavier meals, but that's not what you would be looking to do when on the prowl. While nightclubs are usually a place to go dancing to meet singles, pubs and bistros can be fun because many of them have karaoke. What better way to meet other singles than when up on the stage half drunk and making a total fool of yourself? Actually, it's quite effective!
The Sidewalks of New York
No, this isn't some flashback oldie but goodie from the beginning of the last century. There are some pretty interesting sidewalk cafés in New York and many times this is a great place to meet singles. It's really easy to strike up a conversation with the guy/gal sitting at the table next to you and no one would think anything of it. Don't let them fool you that people in New York are cold and distant. It may be a huge city where few people know each other, but it is a city where something is always happening and people are used to walking around with a festive spirit. Yes, people do move at the speed of light but not when they are seated at a café. There is plenty to talk about passing you by on the street and a good way to break the ice. (While you may not want to ask for a phone number in this setting you can ask it the other person stops here often.)
Coney Island
Some people may be reluctant to go out at night looking for singles in New York because it does have a 'bit' of crime going on out there. Places like Coney Island are wonderful for meeting singles of the opposite sex. Yes there are some activities that take place at night but there are also a good many that happen in the daytime as well. There is so much to do and see at Coney Island that you just might forget that you are there looking for other singles. While this isn't someplace you'd like to go alone, you can always bring a bunch of friends with you. Who knows, the whole group might meet someone interesting.
Landmarks and Museums
There are a number of museums and places of interest in the Big Apple such as the Metropolitan Museum of Art, Madame Tussaud's New York, Ellis Island, and The Empire State Building. Even native New Yorkers often don't frequent such highly visible sites and it is a shame because many a romance was ignited at these places. One of the great things about visiting landmarks and museums is that there is always something to talk about which is great for breaking the ice. Even though this might be a bit too 'dry' for some, it is a relatively safe place to talk to someone you have never met. It never hurts to be a little cautious when speaking with a stranger. (Of course the purpose of doing this is to meet new people, but you still need to be a bit cautious.)
You won't lack for somewhere to meet singles in New York City, that's for sure. It is simply a matter of finding a place that is comfortable to you. Whether that place is one of the multitude of dance clubs or at the top of the Empire State Building you will have plenty of people to choose from. Unlike smaller cities around the country, it should be easy to meet people simply because there are so many of them!