Your pets are important members of your family. They are there for you without fail and ask only that you love them in return. Taking good care of your pets is one important way you can thank them for their unconditional love. This includes finding the right veterinarian to help you keep your furry family members healthy and happy.
The best time to find a veterinarian is before you need one. When you've decided to open your home to a new pet, whether it's your first pet or a new member of your furry family, there are important steps to take to make your new home safe and happy for them. One of the most essential steps is finding a veterinarian to work with you to keep them healthy.
Your relationship with your veterinarian will be critical to helping your pet stay happy and healthy. You'll work as a team, and so it's vital that you choose a vet who will give you the best options and opportunities to care for your pet. Don't be afraid to shop around until you find the right veterinarian and staff to use.
Where to Look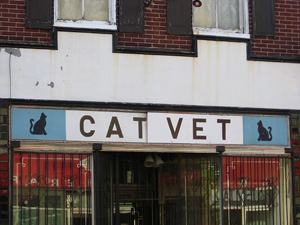 While the Yellow Pages may be a natural place to find veterinarians, often the choices can be overwhelming and the information too little to help. To find a few veterinarian offices to visit and consider, start by asking family, friends, and other pet owners who they prefer and why. Word of mouth is an important starting point, and can help you narrow down your list to a few offices to visit.
Once you've compiled a list of recommended offices to compare, call each office and ask a few questions. Since you will be dealing with the entire staff of a vet's office, it's important to judge not only the doctors themselves but the assistants, technicians and office staff. Don't be afraid to ask questions, and the simple act of answering them, or not, will tell you much about the office.
What to Ask
Inquire about the doctors on staff. How many do they have? Do they specialize in any specific area of care? Ask about availability of each veterinarian and how long they've been in practice. Knowing the basic history of your doctor will help you decide if they're qualified for your pet care needs. Be sure to ask whether x-rays, ultrasound, blood work, EKG, and other diagnostics are performed in-house or referred to a specialist.
Ask about prices. While choosing a veterinarian based on the lowest rates isn't necessarily the best way to decide, it is a consideration and should be among your list of things to consider. Ask about basic rates for office visits, vaccinations, emergency visits and any medications your pet may already be taking. Don't be afraid to ask if each office offers payment options for unexpected large bills, as this can help you understand their office policies.
You never know when your pet will require emergency care, so it's important to understand a vet's after hours emergency care policies. Will they be available by phone, or do they work with an after hours emergency clinic? Ideally, a vet should be able to be reached by phone or answering service after hours in case of emergency, but often veterinarians will take turns working on-call with a local emergency clinic for care when their offices are closed.
Consider whether the office offers grooming and boarding, if these are things you'll be requiring for your pet. Having all services in one office helps to establish a relationship with your animals and is more convenient for you. And having your grooming services in the same office as your vet would be helpful in case of emergency. If boarding services are offered, ask about the kennels and staff, and frequency of care after office hours.
What to Look for When You Visit
These phone calls will tell you much about a veterinary clinic, and should help you narrow down your choices further, until you have a short list of two or three offices you would like to visit in person to tour. Drop by the clinic during regular business hours, and let the staff know that you are looking for a new veterinarian, and would like to tour their facilities. The staff should be happily willing to give you a tour that includes the exam rooms, where your pet would be kept if needing hospital care, boarding facilities and other office areas. As you tour the clinic, there are a few things to keep in mind.
Your first impression will be in the waiting room and reception area. Take note of the traffic in this area. If the lobby is packed, the phones are ringing off the hook and clients and pets are obviously frustrated and impatient, this will tell you much about the efficiency of the staff. Any vet clinic can expect a certain level of busy, but too many clients waiting far too long will only cause further stress for both patients and their human parents.
As you approach the staff in reception, take into account their demeanor. Greeting staff should be friendly and helpful, willing to take time to discuss your needs and answer your questions. Even the front desk and receptionist should be able to handle the most basic questions regarding their offices and pet care practices. Be prepared to wait until the staff can accommodate a tour; you wouldn't want your own scheduled appointment to be put on hold for a visitor, so don't expect them to do so for you.
As you tour the facility, use your nose. Every veterinary clinic and office will smell a little, simply due to the constant flow of animals through the facilities. However, no veterinary office should smell strongly of bad smells, such as feces, dirty dog or cat urine. Your nose will be a strong indicator of an unclean space.
Speaking of cleanliness, take note of all the spaces you visit in the clinic. Watch the floors and surfaces of the lobby, hallways and exam rooms. These should be clean and free of animal waste and hair. Even the busiest animal hospitals should have staff to keep their offices clean throughout even the busiest days.
Perhaps the most important part of your visit to a potential veterinarian's office will be meeting with the vet themselves, if they are available. Be prepared to ask your questions, as you are taking time away from their scheduled clients to meet with you. Be brief but thorough, and get a feel for their overall demeanor and bedside manner. Be your own judge, as you are your pet's voice and advocate for their doctor.
The Final Choice
Once you've toured your prospective offices, it's much easier to choose one that stands out to you as best meeting your and your pet's needs. Once you've narrowed it down to one office, call and make an appointment as soon as possible. Even if your pet doesn't require medical care at this time, an introductory visit will help establish your family and confirm your choice. Be sure to transfer any records from previous vet offices. By finding the very best in veterinary care for your pets, you're sure to keep them healthy and happy.
Last Updated on