Container gardening takes the idea of potted plants to the next level. Now you are no longer keeping just one plant in your container, but rather keeping an entire miniature garden in it to create a practical beauty for your home which can go anywhere and even be transported.
They're great for patios and balconies, and they're perfect for people who want to have a garden despite planning to move home or facing space restriction. Likewise they're also perfect for those people who maybe just don't have the time to invest in a full-sized garden but who nevertheless would like to try their hand at horticulture. Here we'll look at some ideas and tips to get you started.
Where to Have It?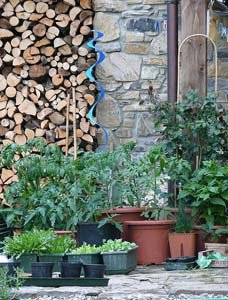 The first thing you need to decide is where you want to keep your container garden. This is an important consideration as the location will dictate certain factors such as the amount of sunlight the plant will get and how much room you'll have to play with. You also need to consider your level of expertise and the kind of look you are going for.
Some ideas for places to keep your container garden are:
• On a balcony
• On a patio
• In a summerhouse/shed/greenhouse
• In the kitchen
• On window sills
• In the porch
• In hanging baskets (often used just outside the window so they can be seen inside and out)
• In a conservatory
• Dotted around a garden (rather than flower beds)
• In other rooms to add colour (you'll need to use more resilient plants)
Choosing Your Container
Another important decision that will affect a lot more of your decisions of course is also which container you are going to choose – which will again dictate space as well as setting the tone in a way for your garden. For instance if you are going to use a terracotta container then you may wish to have an oriental theme to your container garden. Likewise if you have a transparent container of some kind then it could be a great idea to create an aquatic garden. Choose whether you want your garden to look 'normal', or whether you want it to have some kind of quirky theme running through it.
Of course you don't just have to have a single container, and if you prefer you can have multiple containers all with different selections of plants and flowers and arrange them in such a way that they compliment each other.
Themes for Your Container Garden
Choosing themes is a great way to make maximum use of a small amount of space and to tie the look together. This will help you to come up with a creative vision that will aid further decisions you make about how to tend to and design your garden. Another benefit of using a theme to tie everything together is that it will mean you are using similar kinds of plants. This is recommended as it will prevent one plant from massively thriving and stifling the others. This also means that you can select a single kind of soil and use the same fertilisers.
One suggested theme was oriental – and for this you could use bamboo trees and small pebbles on top of the soil. An aquatic theme would be easy to achieve by using only plants that could survive in these conditions, and you could place other items in the water, or use lighting. You might alternatively choose to make a miniature park or garden and to mimic the layout and colours you might find here but on a smaller scale. A desert theme with cacti is also a great and simple idea, and you can additionally use sands on top of the soil to create the look of a windswept desert. For a really fun design you could pick the plants that look the most unusual and create the impression of an alien world. To further add to your theme why not use props and ornaments to add a touch of life and creativity? These could be things like small fountains, bridges, paths, ornamental people, ship wrecks, alien ships, rocks, plastic plants, rakes or anything else you can think of.
Of course you can alternatively be more practical and straightforward in your container gardens and opt instead just to go with a selection of plants that you like the colours of, or just something practical like cabbage, and keep these somewhere to add a dash of colour or to provide some foods.
Container Landscape Garden
Once you have decided upon your location, theme and your difficulty level, you'll want to choose your plants. Here are some suggestions:
Plants That Survive the Shade Well
• Ferns
• Hostas
• Fatsia Japonica
• Philodendron
• Rhapis Excelsa
• Chlorophytum Comosum
• Aspidistra
Aquatic Plants
• Cyperus Papyrus
• Thalia Dealbata
• Nelumbo Nucifera
• Cyuperus Alternifolius
• Venus Fly Trap
Plants That Require Minimal Watering
• Cacti and Succulents
• Strelitzia
• Yucca
• Cordyline Australis
• Dracaena Draco
• Phorminiums
• Brachychiton
• Phoneix Canariensis
Last Updated on