Echinacea is a herbal medicine that comes from flowering plants in the daisy family 'Asteracae' and are endemic to North America. The herb has been credited with many important health benefits and as a 'cure all' substance capable of curing a wide range of varied health conditions – from coughs to life-threatening diseases – while topical applications have been promoted as healing wounds. This of course has lead to many scientific studies being carried out on the herb to find out if it does in fact have as many benefits as it is purported to have. Here we will look at the benefits of Echinacea in more detail.
History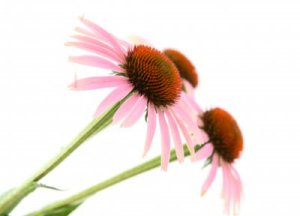 Echinacea Augustifolia was originally used by the North American Plains Indians for general medicinal application. Interestingly it is believed that the Native Americans themselves learned of the plant and its medicinal uses by observing elks seeking out the plants when sick and wounded. It then was used as a basic antimicrobial herb in the 19th and early 20th century where it was used to treat snakebites, anthrax and as an anesthetic.
Purported Benefits
While Echinacea is accredited with a whole plethora of health benefits, it is most popularly known for being an 'immunostimulator' – in other words stimulating the immune system and thus being able to prevent infection. It is also commonly used as a laxative. It is also commonly thought of as a treatment for the common cold, though it is believed that this came about through a misunderstanding – some Native Americans used it to treat symptoms of the common cold rather than to treat the colds themselves.
Scientific Research
Of course many studies and trials have been conducted in order to test these claims and to ascertain whether there is any real benefit of the herb. However unfortunately these studies have had largely mixed results and have on many occasions been flawed. In one review of 14 studies for instance it was found that Echinacea could reduce the likelihood of developing cold or flu symptoms by over 50% – while another double blind study (a particularly reliable form of research) has found that it has no significant effect on susceptibility to infections. At this time then there is not enough evidence to say definitively either way.
Mechanisms of Action
While studies might be inconclusive at this point, looking at the chemical makeup of the herb can help us to ascertain whether it contains active substances and how these might work to support some of the claims (or not as the case may be).
One potential active substance is the compound 'phenols' which are also common in many other plants. Phenols have many anti-inflammatory and anti-clotting qualities and it is phenols that are believed to make olive oil such a beneficial thing to consume, however they may also be related to endocrine-disruptive chemicals; in other words they may actually have some negative effects. Meanwhile Echinacea also contains polysaccharides which can improve mood via the production of feel good hormones as well as helping to improve cardiovascular health and crucially immunity.
This suggests that while the herb may have some health benefits, there is little to suggest it has quite the all-encompassing miracle-properties that some sources claim at this time. With any herb though the exact makeup is complex.
Side Effects
There are also reports of unwanted side effects from Echinacea. These are generally allergic reactions which can include anaphylaxis, asthma, abdominal pain, nausea, dizziness and leucopenia. However those with progressive systemic and auto-immune disorders should steer clear.
Variation
It is important to note that Echinacea based products vary greatly. For instance they will vary in the part of the plant used and while some focus on the root extracts, other include the whole plant and others still use just juice from the plant. Herbalists generally recommend using the roots for boosting the immune system. It is also important to note that with any herbal preparation the amount of active ingredients is likely to vary simply due to variation between plants. Variation is greatest between brands, but even within the same brand there may be differences. It may also interfere with some medication and also anesthetics.
The debate on Echinacea continues to rage and there is currently no official word on how effective it is in improving immune function or combating the common cold. It is thus best used in conjunction with other medication advised by the doctor as an additional thing to try and you should always consult with your doctor before adding any supplementation to your diet.