Living with multiple sclerosis (MS) or other chronic, progressive disease is a complex challenge. Life can be difficult when you're healthy and it is even more so when you have MS. If you are among millions people, who are affected by MS, there could be so many issues that you are probably facing in your daily lives.
Multiple sclerosis is not equal to the end of a meaningful life, but if you do not know how to handle it, what it means or what the consequences are; the diagnosis can be very scary. As soon as you feel the first shock of MS, over time it will continue to affect your life. The following sections are intended to give you some ideas. They don't cover all questions that you may have, but they're good starting point.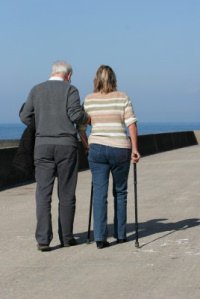 First, possible symptoms related to MS are fatigue, weakness, imbalance, incontinence, and many others. They could be what led you to see the doctor at first. In addition to medicines and regular visits to the doctors, these are things you may need to face:
Family Matters
If you are a parent with MS, without doubt it will affect your family greatly. Depending on the age of your children when you are diagnosed with multiple sclerosis, it is likely that your next questions are – How should I tell my children that I have multiple sclerosis? When should I tell them?
You know your kids well; of course, and you do not want to frighten them. You need to talk to your spouse, together so you can decide how it is best to talk to your children. TA good option in the long term is to tell them the truth. Even if you refuse to tell them, they'll be aware that something is wrong, because you get tired too easily or many special events are cancelled. They should know about your condition and how and whether it can affect their lives.
Women With MS
If you're a woman with MS, undoubtedly you have many questions about your condition. You may ask; can or should I even have a child? Is it safe for me to get pregnant? Can I physically and emotionally take care of my children? Should I continue my medication while I am pregnant? How does MS affect an ongoing pregnancy?
Again, with a spouse or partner, you should work through these issues. If you don't have children, your decision to have children can affect your condition anyway. It is necessary to consider your overall situation. This includes your health and work performance. Many women already have children when they were diagnosed with MS, and others even decide to seek pregnancy. It helps if your partner or spouse is in fully in agreement and supports your decisions.
Men With MS
Men with MS often have similar concerns, although they don't physically deliver a child, the idea of having a family can be overwhelming for a man with MS. Can I continue to work? How can I work and raise a family when I can hardly walk? What will my family think of me if I can't work? How long can I satisfy my wife? Will I be a burden to my spouse and my family?
These questions are all valid and realistic. And as difficult as it may seem, you should be prepared for any possibility. Among the best advices you can get from those who live with MS; is you should aim for the best but be fully prepared for the worst. Discuss you concerns with your partner or spouse. Anticipating for possibilities can help to eliminate many uncertainties that go with them. Continuing everything on your own can only lead to depression, which happens on many people with MS.
Children With MS
Sometimes, children can have MS too. A child with MS faces unique problems after a positive diagnosis. Emotionally, it is a difficult thing at first. If it happens to your child, you should help him to cope with his feelings. You can support him whenever he feels fear and discomfort. Much of it depends on you and how you control the situation.
The question you might have is how and when should you tell your child about his diagnosis? Should you also tell his teachers and friends? Can my child finally able to fend for himself? Or will I always be his caregiver? And what will happen with my child if I can no longer take care of him?
This is a difficult issue to fathom, let alone to solve, as your child condition may vary from day to day. But as parents, we should all be well prepared for everything. For a very young MS patient, it is not an exception. Love them and support them, try to assure him that you'll always be nearby. Also, tell him that he can come to you whenever it is necessary. If he has questions or he feels a symptom that he has never had, encourage him to let you know.
Financial Problems
Raising even a small family can be quite difficult nowadays even for healthy parents. Having a family member with MS can be a challenge. Family finances can be stretched to the limit, if you take into account the cost of health care for MS treatment. And if you are the only source of income, what will happen if you can no longer work properly?
Again, preparation is the key. Aim for the best but make the best preparations possible for the worst. Try to set up a firmer financial reserve. Start now to plan for the future. Although you are not currently disabled, being fully prepared is always a good thing and it is certainly won't hurt.
Physical and Emotional Issues
Managing daily stress and its symptoms can occasionally be tricky if you do it on your own. All the physical and emotional problems associated with MS may call for professional helps. It is a good thing to let others know about your weakness and get a little help from family members and friends.
Your doctor may recommend an occupational or physical therapist, or even both, depending on your requirements. Emotional factors can contribute to cognitive impairment and severe depression. Cognitive disorders can be improved by performing positive daily routine; learn how to exercise and organize your mind. The treatment for major depression may involve drugs and/or professional help. With enough helps you don't need to suffer unnecessarily.
Employment
If you've reached a point where it is very difficult to work normally, then what will happen? With all the preparations you've done, can you continue working? Current disabilities laws address these problems quite well. Learn more about your legal rights and options available to you.
For people with health insurance, is disability included in the clause? If yes, will it be enough to cover your MS treatment costs? These issues should be examined, ideally before you decide to quit working. So if you need to make changes to your insurance policy, you should do it right now while you're not disabled and can still work.
If you have decided to stop working, and you are not insured, it's inevitable to consider using social security disability insurance. Getting the application approved can be a difficult task. But, if you no longer have a steady income, it is a must.
When applying, you should do everything that is necessary and answer all questions truthfully. Ask your doctor to ensure that they can take care of your long-term health situation. If you fail for the first time, try again, you'll succeed.
Social Issues
People who are unemployed due to MS, may wonder what they should do with their time? Loneliness and depression can be a big problem if you have limited mobility and no longer able to go out. Many people with this illness, has previously led an active life, and although some may continue to do so, others simply can not. There are several ways to solve this problem.
First, are there support groups for people with MS in your area? Do you have a local National Multiple Sclerosis Society office nearby? They can offer plenty of information and offer an involvement on MS-related events in your area. You can also visit MS-specific forums and support groups online.
If you are still capable to move (and about three-quarters of people with MS are not confined to a wheelchair), you should consider yoga or other exercises to stay healthy. MS clinic may offer water exercise; yoga and Tai Chi which are quite manageable for patients with multiple sclerosis and reduced mobility. So, if you can walk, or perhaps run a little, there are still many things you can do. You can learn about many new things and meet other MS patients in the process.
Housing Problems
Accommodating housing is something that you should always think about. As always, aim for the best but make the best preparation for the worst. You may not have your dream home, but it should be comfortable, functional, and healthy.
Plan a MS-friendly home, and also add modified things like special bathrooms, wheelchair ramps, grab handles on critical places and easy-to-reach kitchen counters and cabinets. More open spaces and non-slippery flooring such as hardwood floors are other things you can use in your home.
Obviously, living with MS will bring with it, its own challenges and problems. But life with MS can still be fulfilling and wonderful.