These days the majority of people seem to be pulling the purse strings a little tighter and deciding to "go without" in order to save a little extra money. For women, this means skipping that spa appointment, foregoing the expensive hair care products, and making that eye shadow last way past its expiration date.
What if we told you that you could have your own personal spa day complete with resulting soft skin and shiny hair, without leaving your own home? In fact, make sure you are sitting down, because we are about to show you how you can have all of this and more; by looking no further than your own kitchen.
Hair Care
Everybody wants salon-sexy hair without paying salon prices. For many, trips to the salon are few and far between unless they can be scheduled between work meeting and the kids' activities. With just a little more than the time it takes to shower, you can have sleek hair that you can show off and have your friends asking for your stylist's number.
For an all-natural shampoo, you'll need 4 bags of chamomile tea or fresh chamomile flowers if you are feeling really ambitious. Add 4 tablespoons of pure soap flakes and a tablespoon and a half of glycerin, and you're set.
Steep the tea bags in hot water just like you normally would then remove the tea bags and add the flakes. Mix in the glycerin and you're ready to hit the shower! If you have any left over, you'll want to store it in a sealed container and keep in a cool place and out of direct light.
Of course you will need to follow your shampoo up with some conditioner, and the good news is it smells incredible and could not be easier to make! All you need is a bottle of rosemary essential oil and a carrier oil of choice. Good options for hair use are sweet almond oil or even olive oil.
Simply mix a teaspoon of your carrier oil with a few drops of the rosemary oil and work through your hair. Give yourself a nice little scalp massage and an aromatherapy treatment at the same time. For an extra deep conditioning, you can leave the oil in and wrap your hair in a towel for about a half an hour. Rinse well with cool or lukewarm water, and enjoy shiny, sweet smelling hair all day long.
Getting super shiny hair could not be easier, and there are several tried-and-tested at home methods for getting those sexy sleek locks. Any of the following (though not all at the same time) will give you some extra shine to brighten your day:
• Lemon juice and water; rub through hair and rinse with cold water
• After washing and conditioning, rinse your hair with apple cider vinegar
• Add some baking soda to your shampoo to help remove greasy build up
• Rinsing your hair with beer is a home remedy that even our grandmothers swear by
Skin Care
Give yourself a spa-quality facial using ingredients that are likely already lying in your refrigerator. You can do a full regimen of cleansing, toning, and applying a mask without ever stepping foot in a spa or drugstore.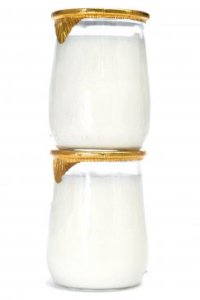 For an incredible deep-cleaning cleanser, all you need is some cornmeal and yogurt. Use about a half of a cup of cornmeal and add enough yogurt to form a paste. The mixture should be thick but also easy to spread over your face.
Smooth on (do not get it into your eyes) and gently massage your face to exfoliate. Rinse with warm water and relish the results.
Once your face is cleansed, it's time for a toner to really clean deep down into your pores. Simply peel and cut a cucumber and use a blender to puree it. Use cheesecloth over a sieve; pour the cucumber puree on the sieve and allow the liquid to drop into the bowl. After about 15 minutes, add 2 teaspoons of honey and pour the mixture into a bottle.
To tone your face, shake the mixture well and pour it onto a cotton pad. Swipe it across your face and neck and allow it to air dry before moisturizing. Leftovers will need to be stored in the fridge (toss after one week).
Now for a mask to hydrate and soften your cleansed and toned skin, you'll need some blueberries, honey, and olive oil.
Add about ¼ cup of blueberries (extra points if they are organic), 1 tablespoon of honey, and another tablespoon of olive oil to a blender. Blend until it is nice and smooth. Immediately apply the mixture to your face, making sure to avoid your eyes.
Let the mask sit for at least 5 minutes to allow the antioxidants in the berries to work their magic. You'll need warm water and a soft washcloth to remove the mixture.
Just for fun, pamper your lips a little with some au-natural TLC. Make your own lipgloss by melting 3 tablespoons of cocoa butter (again, organic is always best) in the microwave. Add a few dark chocolate chips and mix until melted; this may require a little more microwave time.
Add about a teaspoon of vitamin E oil and a quarter of a teaspoon of orange extract. Mix everything together and pour the mixture into small containers. After it sits for a little while it will become slightly solidified and easier to apply. You'll have kissably soft, chocolate scented lips all day long!