Every family needs a break from the grind of daily life. Sometimes you're looking to get away for awhile and other times you just need a couple of days to recoup and recover. Of course, the desire to go on vacation does not necessarily mean that you have the budget for it. There are so many ways to have a nice relaxing family vacation without ever leaving town; and sometimes you don't even have to leave your home!
Take a look at some of these staycation ideas; fun and simple ways to enjoy family time away from work, bills, and other daily stress. You might actually find that bypassing the stress of planning and paying for a vacation makes for an even better time!
Backyard Campout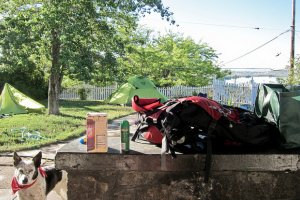 If you love camping but time or funds do not allow for you to make a trip to the mountains, try a backyard campout instead. Kids can have just as much fun doing all of the same activities; the location really doesn't matter. Use your creativity and encourage your children to use their imaginations. Pitch a tent together and pull out the sleeping bags. If your area permits it, build a campfire to make things really authentic. Otherwise, you can always opt for a gas stove or even just a barbecue.
Tell scary stories, go on scavenger hunts; almost anything that you would do in the mountains can be made backyard-friendly. Bring everything outside and make it as close to actual camping as possible; the only reason to head into the house is for the bathroom; one nice luxury of backyard camping.
Local Explorers
Spend the day (or a couple of days) exploring places around your area that you may never have gone; you could also take the time to visit a few old favorites. You can make this idea your very own; the options here are endless. Take some time to look around online for fun things to do and places to see in your town. You would be surprised how many budget friendly or even free things there are to do that you've never even heard of.
This staycation will take a little bit of planning ahead, but will be an adventure that your family will never forget. Find local museums, parks, historic sites; anything that will be new and exciting for your kids. Most outdoor places are free and many museums have certain days of the week when kids get in free as well. If you've got time, outline a map of where you are going to go. Book cheap hotels online to get incredible rates (often as low as $20 a night!); kids love staying in new places and you can relax while they play in the swimming pool until bed time.
Dining Out
When your kids are older, you might consider having a fancy night out. While dinner may not really be many people's idea of a vacation, it's a fun way to spend quality family time if you don't have the flexibility of a few days' vacation. Make reservations ahead of time and get the whole family dressed up. Enjoy watching your kids experience their first multi-course meal while also offering them a taste of culture and the chance to practice their best manners.
If a fancy dinner isn't really your thing, you could even try something as simple as taking the family out for breakfast in your pajamas and then spending the day watching movies and playing games; it's a totally legitimate family staycation as long as the family is together and having fun.
Room Service!
Even the smallest budget and the shortest time frame can accommodate a hotel stay. Several online websites can get you incredible deals on hotel rooms and you can stay in one just a few minutes from home. Staying in a hotel gives you the opportunity to leave behind ringing phones and dirty dishes and just enjoy the comforts that come with having people to take care of things for you. Most hotels offer room service or at least free breakfast, meaning nobody has to cook or clean. You can also venture out for dinner or order something in; the best part of being in a hotel is the opportunity to be completely lazy and not feel guilty about it.
Your family hotel staycation can consist of movies and junk food, swimming, playing at the hotel's gym, or even sleeping in until noon. Staying away from home offers the feel of an actual vacation without the cost and hassle.
Unplug and Disconnect
A staycation can often be nothing more than just getting out of the house for a day. You don't have to spend the night somewhere else or go to a distant place; the idea is to take a break and enjoy family fun time. Once your staycation has begun, you no longer get to take phone calls, worry about bills, check bank accounts, or any of the normal things you do that end up stressing you out. Turn off your cell phone, unplug the computer, and let the house be messy. Leave everything behind and enjoy time.
For a one day family staycation, here are some easy ideas:
• Visit the zoo, aquarium, museum, or other place where fun and learning are a package deal.
• Visit a theme park and spend the day riding roller coasters, playing games, and eating hot dogs.
• Go to a sporting event. The majority of the time you can get tickets at great prices; even if they aren't front row seats, you can enjoy watching a game together.
• Hit the beach! Many people who live near a beach forget to take advantage of it. If you are lucky enough to be close to one, go spend a day in the sand and sun.
• If you don't live near the beach, take the family to the pool or water park for the day. You can be silly, get wet, and soak up the sun all day long.
Last Updated on