The 'freshman 15' is a horror story that all freshmen know of when they move into halls. A tale so gruesome and grizzly that many lose sleep over it, and one that is said to strike at any moment.
The freshman 15 is no mere rumour however, and here the '15' does not refer to 15 ghosts or anything that would normally feature in a horror tale. Rather the 15 in this case refers to 15 pounds of weight that almost all freshmen put on when they first start college.
But is this a foregone conclusion? Or is it possible to avoid that fate? The good news is that if you are smart and you take reasonable precautions it is possible to escape the curse. Here we will look at how.
What Causes Weight Gain at College?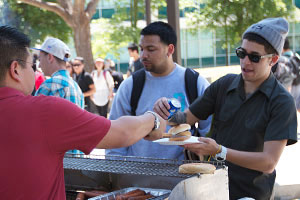 First of all then, what is it that causes this weight gain when you start college? Actually there's not just one cause, but several, which include:
Drinking
The social scene at college is one of the major draws that makes people want to seek higher education. You're likely to share lots of drinks with your new friends, go to loads of parties, and benefit from generous discounts at your student union. It's a tough life but someone has to do it. The only downside is that all that alcohol is packed with calories.
Lack of Activity
Spending so long either in the pub or the library is of course going to take its toll. College campuses benefit from having everything that you could need in close proximity meaning you rarely need to walk more than a mile in a day. This coupled with no compulsory PE lessons is partly responsible for the freshman 15.
Cheap Food
Students are famous for their drinking yes, but they are also famous for their lack of funds. This combined with a lack of time and cooking skill/experience, then means that you end up having to eat cheaply by buying ready meals, microwave meals and fast food. (Of course it doesn't really mean that, we'll come to the better solution shortly).
Emotion
Being a student is a brilliant experience and you're in for a wild ride. Quite frankly I'm very jealous. However at the same time it can also be quite a stressful and lonely experience for some, especially at the start. Moving away from home for the first time, saying goodbye to friends, and having more work than you're probably used to can all take their toll – and for some comfort eating might be the answer.
The Answer
So that's the problem… what then is the answer? Here are some solutions to help you avoid the freshman 15.
Cook Smart
Of course eating cheaply doesn't have to mean eating badly, and there are many meals you can conjure up that will be quick, cheap and easy. Pouring some chopped tomatoes over some whole grain pasta for instance is a cheap and inexpensive meal, as are beans on toast, or tuna salads. Get yourself a recipe book on eating cheaply, and team up with friends to save costs on meals.
Avoid Eating Out
Of course this is a little tricky if all your friends are eating out and you don't want to be left out of the fun. However if you are really serious about keeping slim then know that the spectre of the freshman 15 haunts your local McDonalds. Try suggesting that you cook together instead, and look at the slightly healthier options when you eat out. When other have chocolate cake for desert, why not just have a coffee?
Join Clubs
You also need to be active if you are going to fend off the curse. This is something that shouldn't be too difficult at college as there are plenty of clubs and sports teams around for you to choose from. Joining the rugby club, rowing, ultimate Frisbee or rock climbing will ensure you get lots of exercise and will help you to burn off calories faster than you accumulate them. At the same time this is a great way to meet new friends and to experience another element of the college experience.
Join a Gym
If you don't fancy joining a sports team and you're more of a chess society kind of guy/gal, or if you want to supplement the exercise you get from those activities, then joining a gym is an ideal way to do this – because it should both be conveniently located on campus and also generously reduced for students.