As if giving birth isn't terrifying enough for the mother, birth partners also get helplessness added into the mixture of feelings. Standing by and cheering your partner on may seem useless but it's really exactly what she needs. The best birth partners are the ones who have been right by the mother's side every step of the way. They know her thoughts and feelings, what she's expecting from the birth, and what she expects from you, her partner.
Make sure that you are well informed well ahead of time so that you can be everything that your partner needs you to be. The birth of a new baby is an exciting and life-altering event for both of you, which means you need to be just as involved as she is; short of actually giving birth.
Be Supportive and Understanding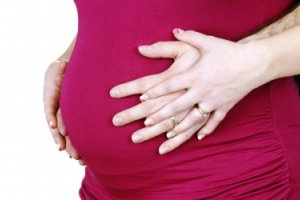 Your partner is generally not going to be on her best behavior during the labor and delivery process so try to be as understanding as possible if she begins throwing insults your way. Her body is essentially being torn apart from the inside out and she has no control over it. She's a mess of emotions; exhausted, frustrated, excited, and everything in between.
Be whatever it is that she needs you to be; if she wants you to hold her hand or rub her back, then do it. If she wants you as far away from her as possible, you'll need to respect that as well. The same goes for trying to soothe her; some women simply do not want to be talked to. If she wants you to leave her alone, stay in the room but be distant until she needs you to do otherwise.
Remember not to take anything personally during this time; she still loves you and needs you, she's just in a great deal of pain. All women react differently and need different things. A lot of times what they need will change several times throughout the process so remain patient and understanding and you'll both make it through just fine.
Be Prepared
Being prepared starts the moment your partner tells you that she is pregnant. This means that you are prepared to support her, help her through the course of the pregnancy (which definitely includes enduring mood swings and middle of the night cravings), and help her prepare for the birth of the baby.
When the due date is close, make sure that you have a suitcase with things for her and the baby prepared and next to the door. Also be sure that you have discussed a plan of action and know what you are going to do as soon as the moment arises. Keep in mind that actual births are not like what you see in Hollywood movies; that baby is not going anywhere for a while, so know that you don't need to panic when her water breaks.
Respect your partner's wish for a birth plan if she has one and make sure that the doctors and nurses are aware of her wishes when you arrive. By the same token, she reserves the right to throw the plan out the window at any moment she pleases.
Make sure that you personally are mentally and emotionally prepared to support her and be completely present during the labor and delivery process; no matter how many straight hours that might entail.
Stay Calm
This experience is terrifying enough for her without you falling to pieces as well. Unexpected things may arise during the process of bringing this little life into the world and she needs to be able to depend on you to be calm and help her through whatever may happen.
Talk to her and help her to stay calm as well; remember that stress on her means stress on the baby and that's something you want to avoid as much as possible. If you have questions or concerns, pull the doctor aside and ask privately so that you don't alarm her.
Take Care of Yourself
You cannot support your partner if you aren't taking care of yourself. Let yourself catch a breath if you need one. If you get worked up and frustrated then you are not going to be able to calmly support her. Just because you are supposed to be the strong birth partner does not mean that you are supposed to be a superhero. Step out of the room if you need to and compose yourself.
While your partner is doing all of the physical stuff, you are likely going to be mentally and emotionally drained. The birth of a baby is an emotional rollercoaster that will leave you feeling like you've been awake for days (and sometimes you actually will have been awake for days). Take a breath, keep you and your partner hydrated, and don't forget to take care of yourself. You'll be celebrating soon enough!