Nattokinase is an enzyme which is extracted from fermented soybeans (known as 'natto' in Japan). Enzymes are proteins that act as 'catalysts' for chemical reactions and help break substances down or alter their form – the most obvious example being the digestive enzymes. Nattokinase is produced by the bacterium which acts on the soybeans, and is a 'serine protease' (not a kinase) enzyme. This has successfully been marketed as having several health benefits, but what's the real scoop?
Health Claims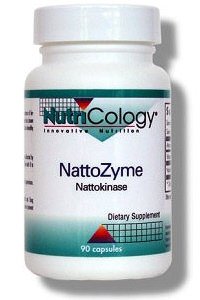 Nattokinase has many related health claims. Here we will review each of them.
Blood Thinning and Heart Disease
Nattokinase is promoted in alternative medicine as a blood thinner in the same vein as aspirin and is often suggested as a replacement for other anti-inflammatory medications. Due to its reported blood thinning properties it is also suggested as a medication for heart conditions.
However it is not recommended that you follow this advice as there is no evidence that nattokinase is in fact effective. At the same time, attempts to combine aspirin with nattokinase could increase the chances of intracranial haemorrhage. Where a doctor suggests daily aspirin therapy you are better using aspirin as suggested.
Apoptosis
One substance called Lexirin claims to use nattokinase to prevent apoptosis (cell death) by helping to prevent gastrointestinal disorders. However the product is not available in the West and it is hard to find any literature on it.
Alzheimer's
Some evidence suggests that nattokinase may be effective in the catabolism of toxic amyloid fibrils helping to prevent and manage Alzheimer's disease, though more.
Conclusion
In short then, nattokinase may have some useful health benefits. However like many alternative remedies there is also a lot of nonsense written about it unfortunately, and if used incorrectly it may be dangerous. The areas where it does show promise are currently still in need of investigation, and most of its effects can be reproduced more reliably and safely through existing medication.