In the United States, it's difficult to not know about the growing problems of obesity. Almost every day in our media we see articles about the alarming numbers of people who are overweight or obese, and how this is affecting our national health.
What these articles have failed to convey is that obesity is not just a problem for Americans. Given recent reports from the World Health Organization (WHO), and a worldwide study on 168,159 people in 63 countries that did not include the United States, the word should be spelled globesity. The organization estimates that within a very few years, diseases related to poor diet and inactivity and the obesity that results from them will become the principal causes of disease and death globally.
1 in 3 adults worldwide is overweight; 1 in 10 is obese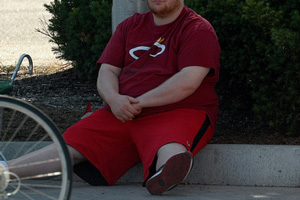 And those figures may be on the low side. The extent of the problem is enormous. It's not just an epidemic, as the WHO referred to it. A 2007 study, in which over 60% of men and 50% of women studied were found to be overweight or obese, has called it a pandemic – "occurring over a wide geographic area and affecting an exceptionally high proportion of the population." The problem is also not limited to industrialized nations; the WHO estimates that in developing countries over 115 million people suffer from obesity.
What is causing all of this?
Essentially, the same things that are causing it in the United States – a radical shift in the eating and exercise habits of the general population. Part of the problem is, of course, the growing dependence on a diet of fast food and processed foods, to which have been added large amounts of sugar and corn syrup, saturated fats, and oils. But another aspect of the problem is the increasingly sedentary lifestyle that people live. Whereas in the past they may have walked or bicycled to work, now they take public transportation. When they get to work, they sit at desks all day. This combination is as deadly in China and Japan as it is in the United States.
In fact, there is evidence that this bad food/no exercise lifestyle may be even more dangerous in those countries. In both countries, the medical definition of obesity is lower than it is in the U.S. In America, having a body mass index of 30 is considered obese; in Japan and China, you are obese if you have a BMI of 25. But those countries are starting to see health problems such as diabetes – which in Western societies becomes a heightened risk in people with a BMI of 30 – becoming chronic in people with a BMI of 25. Over half of the people in the world with diabetes are Asian.
If this article is starting to sound a little depressing, and you're hoping for an easy fix or a quick solution to this global pandemic of obesity, I regret that I cannot offer one. Neither, sadly, can the scientists and doctors from the World Health Organization. It's a complex problem that can only be really be reversed through a combination of public education about the dangers of eating improperly and not getting enough exercise, and governmental action to reduce the dangers present in foods that are overprocessed and undernourishing. The authors of the recent study agree, stating that major public health initiatives are urgently needed: "We have seen that such initiatives can work to reduce cigarette smoking. We have to have the same kind of commitment to make a difference in obesity rates."
Positive signs
It's not all bad news. A recent survey performed by Reader's Digest interviewed 16,000 people from 16 different countries, and found that people are becoming more aware of the problem and some are taking measures to correct it. For example, among people under doctors' orders to lose weight, whereas only 11% of the Swiss do so, 39% of the French do (in the US, the figures are 29% for men and 33% for women). Finland is the world leader in trying to control its escalating obesity; over 83% have actively tried to lose weight.
The WHO itself is spearheading a series of initiatives to "make healthy choices easy choices." They have conducted public awareness campaigns aimed at policy-makers, medical professionals, and the general public. We should all wish them well, before our planet literally eats itself to death.
Last Updated on