The risks of obesity often extend beyond the expected issues of diabetes, hypertension and heart disease. There is a growing and pressing problem in organ donation due to the lack of appropriate organ donors. An increasing number of people are being disqualified from donating organs due to their obesity because such a procedure would put the obese donor at too high a risk for complications.
Almost half of organ transplantation centers and numerous hospitals and clinic refuse to allow those over a body mass index (BMI) of 30, the general cutoff point for obesity, to donate organs due to the long-term health risks. This has caused a steadily decreasing pool of eligible donors, meaning that fewer transplants are being performed from live donors.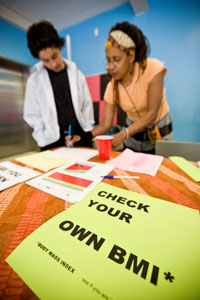 Obesity in potential donors is not just a problem for the donor, but is also a major problem for the organ recipient. Organs from obese patients are surrounded by fatty tissue and are usually overstressed from the demands of the obese body, resulting in organs that are damaged and overworked. This creates a greater risk of graft loss and subsequent death for the recipient, especially for children.
In the United States, there are more than 114,000 people on the waiting lists for organ transplantation, most of whom are kidney transplant recipients. Obesity not only affects kidneys; hearts, livers and pancreas are all negatively affected by the large deposits of fat that accumulate around the organs.
Although many centers disqualify obese patients, others provide an avenue for donation: losing weight. If prospective donors can lose enough weight, they can reassessed for donation. That is what Renee DeHaan from Le Mars, Iowa, had to do in order to be eligible to donate a kidney to her sister. DeHaan is the only member of the family who is genetically compatible with her sister Marsha Geier and who does not have diabetes. DeHaan's BMI was 32 at the time of her initial donor assessment and ideally she should reach a BMI of 25-28 in order to be eligible. In order to stay healthy, she will also have to keep off the weight permanently otherwise she will risk putting herself on the waiting list.
The cruel fact about waiting lists is that the chances of receiving an organ in time are slim. Dr. Andrew Cameron, a transplant surgeon at the Johns Hopkins Hospital in Baltimore, Maryland, stated in an interview with ABC News that, "There are 100,000 Americans waiting for a transplant right now… Someone will die every four hours for lack of a transplantable organ." The majority of individuals on organ waiting lists will die before getting the chance to receive an organ.
Obesity drastically affects the health not only of those who are obese but those who depend on organ transplants. As the percentage of obese people rises, the number of patients requiring transplant rises and the number of suitable donors/organs falls, a situation that leaves tens of thousands in desperate hope and almost constant fear.
A study reported by Dr. Mala Sachdeva of the North Shore LIJ Health System Transplant Center of Long Island, NY found that approximately 25% of willing organ donors were excluded due to obesity. Even more discouragingly, only 13% of these overweight donors were successful in reducing their weight to an acceptable level. Said Sachdeva, "That's not a lot of success, even though the motivation was there."
Dr. Lynda Szczech, president of the National Kidney Foundation, said that, "As a community, we need to identify ways to overcome this barrier so that we can increase our donor pool and end the wait for a transplant." The problem in getting people to lose weight may lie not in the motivation, of which there is plenty in organ donation, but in how to restructure society in general in order to tackle the growing epidemic of obesity. Until the obesity epidemic is under control, doctors' ability for to treat transplant patients effectively will be significantly restricted.
Last Updated on