Prostate cancer is the most common cancer among American men, and the second-leading cause of cancer death after lung cancer. According to the American Cancer Society, about 1 in 6 will acquire prostate cancer at some point during his life if he lives long enough. Almost all men eventually develop prostate cancer, as the risk increases with age. Approximately 80 percent of prostate cancer cases are diagnosed in men over the age of 65, however it generally grows slowly, and most men die (generally from another cause) without ever being aware that they had it. A recent study has shown that antioxidant flavonoids may play a part in slowing the progression and reducing the severity of the disease.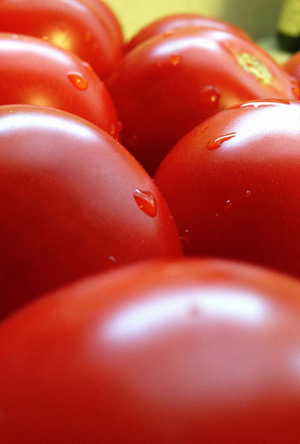 Researchers from The Arnold School of Public Health at the University of South Carolina have reached some preliminary findings associating a high intake of antioxidants in the diet with the development of less aggressive forms of prostate cancer. Susan Steck, lead author of the study and associate professor at the university says of their findings, "What we are seeing here is the impact of flavonoids on reducing the risk for aggressive prostate cancer. They may not affect your risk for getting the cancer, but it may mitigate against the kind of cancer you would get."
The researchers surveyed nearly 1,900 men as to their normal dietary habits before the cancer had been diagnosed, and no dietary changes were made after the diagnosis. Although the study found that those taking the most flavonoids had less aggressive forms of cancer, there was not necessarily a cause-and-effect relationship. Steck said, "We compared men with low-aggressive disease to high aggressive. We did not have a healthy comparison group. So while we think that consuming more fruits and vegetables will improve the odds of not getting prostate cancer altogether, we can't say that based on our study results." The greatest amount of prostate protection from flavonoids was found among men under age 65 and those who smoked.
The sources of most of the flavonoids the men in the study consumed were green and black tea, grapefruit juice and orange juice. Other sources of flavonoids were strawberries, cooked greens, onions and broccoli. Another antioxidant that is a carotenoid and is known to be helpful in the prevention of prostate cancer is lycopene, which is commonly found in deep red fruits and vegetables, tomatoes in particular.
A study conducted by Harvard University found that men had a 20 percent reduced risk of developing prostate cancer if they ate foods that contained cooked tomatoes (with a tomato sauce base, for instance) at least twice a week. The way in which lycopene works to keep cancer at bay is believed to be its ability to keep cancer cells from connecting to a blood supply. Eating cooked tomatoes with a little fat (such as olive oil) releases the greatest amount of lycopene for absorption, as the lycopene in raw tomatoes is not as bioavailable.
There has been some debate in recent years as to whether antioxidants are a help or hindrance in the fight against prostate cancer. One study of men taking supplements of vitamin E and selenium found that those who took high amounts of antioxidants actually had an increased rate of prostate cancer. However, these men had been taking 400 IU of vitamin E per day, which is 13 times the recommended amount, and three times the recommended amount of selenium. The study scientists noted, "It is safe to conclude that there is no evidence that suggest that consuming the recommended dosage of antioxidants increases cancer risk."
It is virtually impossible to get too many antioxidants from your diet, so sticking with consuming plenty of antioxidant-rich vegetables on a regular basis can help to ensure you are getting optimal amounts of antioxidants without the risk of getting too much, which is possible when taking supplements. They are easy to spot, as they are bright and colorful. Some of the foods with the highest amount of antioxidants are bell peppers (particularly the red, yellow and orange ones), tomatoes, squash, carrots, sweet potatoes, dark green leafy vegetables, broccoli and berries of all types, particularly blueberries and strawberries.
Food is good medicine and has shown that it can play a key role in preventing and slowing the development of prostate cancer. So try to incorporate more of these colorful fruits and vegetables into your diet each day so you can be sure to reap the benefits into old age.