How do you go about finding a good doctor? If you are one of what is now small majority of Americans who have grown up in one town and have stayed there, maybe you see the same doctor your family has relied on for generations. But what if you'd just moved there? How would you choose which doctors to go to? Would you use the Yellow Pages? That doesn't give you much information. Would you ask friends, and choose a doctor based on their recommendations? Well, if you just moved to town, you don't have friends yet to ask, and if you did, could you trust their recommendations – do they have the expertise to tell you whether Dr. X is a good doctor?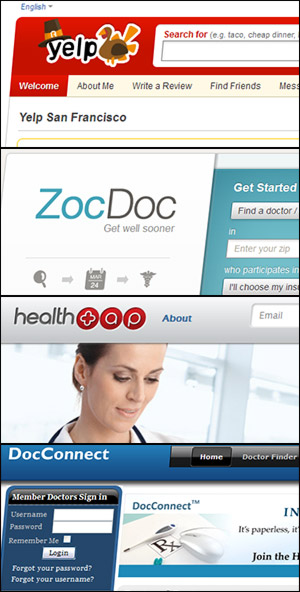 Choosing a doctor is a problem faced by millions of Americans every year, and if you had trouble answering some of the questions above, so do they. So I thought I'd write an article about some of the new techniques that people are employing to help them make these critical decisions, so that if you're ever in need of a new doctor or a medical specialist, you can use them, too.
Insurance provider recommendations
In today's medical world, many of us are members of HMO's or medical insurance plans that have a say in which doctors we can see. In many cases the doctors or hospitals have to be on an approved list before your insurance company will cover your cost of seeing them. If this is the case, this should be your first stop along the way when trying to find a doctor. Many of these insurance companies provide websites or phone support lines that can give you a list of doctors they recommend in your area, and more and more of them are even including patient recommendations or "reviews" along with the lists of names.
Consumer recommendations
Two other Internet services can help you gain more information when making your choices about which doctor to see. One is a Web service called Yelp, which started out being a forum on which to collect reviews of restaurants and other businesses, but which now includes reviews of doctors in many of the locations it services. A more specific doctor search services is provided by a site called ZocDoc. It allows you to search by insurance provider, ZIP code, and the doctors' specialties, and provides reviews and ratings supplied by its users. You can even use ZocDoc to book an appointment.
While these services are valuable, and can provide you with useful information and important consumer reviews, the drawback of this approach is that the "reviewers" are consumers, just like you. They may not have the expertise with which to properly appraise a doctor's competence, and the sites' "Type anything you want in the comment box" approach allows someone to give a doctor a bad rating because they think the receptionist in his office was rude to them.
Doctor recommendations
What's obviously missing from Yelp and ZocDoc is recommendations from actual doctors. Who would they choose if they needed a doctor, and who would they recommend their patients to if they needed a specialist? Well, to fill this gap comes a new service from a startup health care service called HealthTap. It has started a service called DOCConnect, which uses a new strategy for finding good doctors – they collect and provide information to consumers about how many times a doctor has had people referred to him or her by another doctor.
Such referral information has been available in the past, but only to fellow doctors, hospitals, and medical organizations. DOCConnect is the first time such a service has been made available to everyday consumers, like you and me. The idea behind it is that a greater number of referrals indicates a greater level of experience, and that the people who should know best – other doctors – have a strong degree of trust and confidence in the doctor they're referring their patients to. Therefore, so should you.
That's the idea, anyway. Please bear in mind that I (the writer of this piece) do not currently live in the United States, so I have not personally used any of these services, and thus don't necessarily recommend them. Besides, at least one of them (HealthTap) isn't free, and in fact charges fees for some of its services. But since the question of "How do I find a doctor?" has come up several times lately, I thought I'd pass along some of the innovative, more high-tech answers I'd found to that question. If you're looking for a doctor yourself, good luck, and I hope that this information helps you to find one you like.