If you want to burn fat and tone up your physique then you will most likely be tempted by the sounds of aerobics. Aerobics refers to basically any exercise that involves you doing rapid movements normally on the spot and getting your heart pumping at a higher rate.
An average aerobics class might involve punching on the spot, doing jumping jacks and maybe a bit of jogging on the spot. This works because it creates an energy deficit where your body requires more energy than is available in your blood sugar. In turn you will then be forced to find energy from elsewhere and that will mean that your heart beats harder (improving your cardiovascular health) and that you burn off your fat stores (making you slimmer). You'll also use your muscles in the movements meaning that you tone up and look firmer and flatter, and you'll work your lungs to get more oxygen from the environment around you.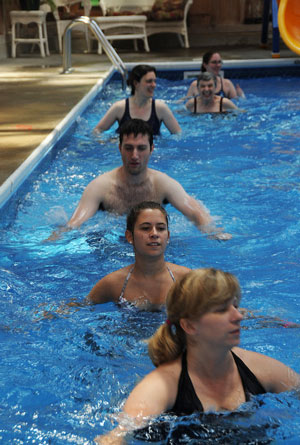 So in short this is a very effective way to get into shape, so why 'aqua aerobics' then? What can that offer that you can't get from 'normal' aerobics? Here we will look at the answer and at why aqua aerobics is so popular.
Resistance
The main idea behind aerobics is to work your cardiovascular system and to burn fat, and this is accomplished by repeating energetic movements for an extended period of time. However what this won't really do is to train your muscles which requires some form of resistance – something pushing against you in order to make the movement more difficult. This is where aqua aerobics comes in – because you are moving your limbs through the water to perform them, this means you have to push against the pressure caused by the water and make the movement that way. In turn this means that you will work the muscles harder and that means you can tone up your arms and legs and stomach through your repetitions rather than just burning fat.
This added difficulty means that you are going to be tasked with performing smaller and easier movements and these moves will also need to take into account a lack of gravity. As such your aqua aerobics exercises are more likely to consist of simply pushing your hands down while submerged in water or doing slower kicks and punches – rather than jogging on the spot which is nigh impossible. This can have some disadvantages of course – as the slower pace means that you are somewhat less likely to burn the same number of calories or get the heart beating as fast – though vigorous exercise is still possible.
Another advantage of aqua aerobics is that it is lower impact than regular aerobics. Skipping for instance or jumping up and down on the spot requires you to leave the ground and to impact with it again when you land, and this in turn can send a jolt up through your joints and bones which can chip away at bone and cartilage if you have a pre-existing condition. By repeating the movements submerged in water you can work without having to jump and fall and this makes it more suitable for people with back pains or knee issues.
One of the drawbacks of aqua aerobics is simply that it involves a bit more 'hassle' as you have to get all wet and then dried each time (and if you are overweight and self conscious it also means bearing even more flesh).
In short there is no right or wrong answer when it comes to choosing between aerobics or aqua aerobics – each has its own advantages and disadvantages and either is great for toning and fat burning.
Last Updated on