You can't turn on a television these days without seeing some cooking program or another, each led by a famous chef who makes preparing a sumptuous meal look like a breeze. Their results certainly look tasty, and we have recently been hearing more about how important it is to cook our own food if we want to eat healthy. However, there has recently been a lot of fuss made in the press about the results of a new study published in a recent edition of the British Medical Journal (BMJ). Researchers found that the celebrity chefs' recipes had more calories, protein and fat, and less fiber per portion than supermarket brand TV dinners.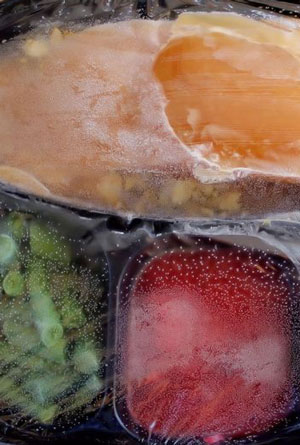 On the surface, this seems to be a disturbing finding. Well-known chefs such as Jamie Oliver, who has devoted a considerable amount of time to trying to get schools to cook healthy meals for children instead of relying on ready-made processed foods, are now being vilified to some extent by the media. While the data from the study does not lie, it also does not take into account other aspects of what a healthy meal consists of.
Portion Size Counts
The study, performed by researchers at Newcastle University, analyzed 100 recipes taken from British celebrity chef cookbooks, including those from Jamie Oliver, Hugh Fearnley-Whittingstall, Nigella Lawson and Lorraine Pascale. The nutritional value per portion of these was compared with 100 random TV dinners from the supermarkets ASDA, Sainsbury's and Tesco. Neither the recipes nor the TV dinners met national or international standards for a healthy meal, although the salt content was lower in the chefs' recipes.
One of the chefs whose recipes were included in the study, Hugh Fearnley-Whittingstall, responded to the study's conclusions. One of the points he makes is that the portions per person of the recipes and the TV dinners are not comparable. "You tend to get a lot more food on your plate with a celebrity cookbook recipe than with a supermarket ready-meal. Divide the quantity of ingredients by the number of people the recipe serves, and of course a more generous serving means more calories per portion," he said.
Fearnley-Whittingstall also points out that a chef's book of recipes varies widely in the calorie count of each dish. For example, if someone chooses to cook a calorie-rich main course, there is nothing to stop them from choosing a recipe such as cauliflower with cheese sauce for the vegetable instead of another recipe in the book for a spring salad. His contention is that it is up to the individual to choose a healthy combination of recipes that will provide flavor while also being a healthy meal overall.
How to Tackle the Obesity Problem?
Experts estimate that by 2020, 70 percent of the US and UK population will be overweight. Obesity is a growing epidemic, and has been a major contributor to the high rates of diabetes, heart disease and cancer. Governments have been trying to find ways of curbing this epidemic, and making changes to the typical Western diet seems to be a large part of the solution.
Martin White, professor of public health at Newcastle University, suggests that nutritional values per portion be added to chefs' cookbooks, much in the same way that it is now required for labeling on TV dinners. This would allow consumers to combine dishes in a healthier manner. White says, "We did not set out to bash the chefs. That wasn't at all our intention. If you look at the TV chefs as a whole, there are a number of them who are vociferous champions for sustainable food and healthy eating. They are a passionate lot who do care about the healthy content of our diet."
Jamie Oliver is already planning on making some of these changes. According to his representatives, "We welcome any research which raises debate on these issues and in fact Jamie's most recent book, 15 Minute Meals, does contain calorie content and nutritional information per serving for every dish. 15 Minute Meals is a landmark book for Jamie because we intend to have clear signposting on every book going forward." They continued, "We will soon also be re-launching the Jamie Oliver website with nutritional information on the recipes. However, we would regard the key issue to be food education so that people are aware of which foods are for every day and which are treats to be enjoyed occasionally."