It's a great feeling giving a gift that someone truly loves and appreciates and normally it's not a bad feeling for the person on the receiving end either. Rather than just giving something someone they can enjoy though or get some use out of, wouldn't it be great if it could also benefit them in a more fundamental, long lasting and important way. With health being so crucial to our happiness and well-being, this is surely one of the greatest gifts we can give. So what are some health conscious gifts you can give that will help your recipients to improve their energy and fitness while avoiding illness? Here we will look at ten suggestions to give you some inspiration…
Fruit Basket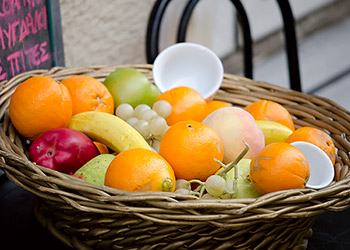 There are few foods healthier than fruits but the unfortunate fact is that many of us don't get anywhere near our five a day. A fruit basket is a thoughtful gift that shows you've put time and thought into your choice, and it's one that will look great too. At the same time though you'll help your loved ones to get more vitamins and minerals as well as more fibre.
Gym Equipment
This might sound like a boring or dry gift, but some of the more imaginative equipment out there can make a great novelty gift. Take for instance an ab roller, or an ab belt and you have a cool 'gadget' that can encourage someone to do some more exercise.
Classes
Voucher sites like Groupon will offer do deals on classes and activities which make great gifts because they give someone an 'experience' and even potentially a skill or a new hobby. Many of these are highly healthy from cooking classes to Pilates to various dancing classes.
Membership
If you can do it without it seeming insulting, then getting someone membership to a gym or health club is a flamboyant and very generous gift which can of course help friends or family members to get into shape.
Sports Equipment
Getting into a sport is a great way to stay healthy and active on a regular basis that doesn't feel like a 'chore' in the same way that going to the gym can for some. Giving someone a cricket bat or a snooker cue could be example the nudge they need to get involved in such an activity on a regular basis.
Shoes/Clothes
Giving someone a pair of hiking boots is a great way to inspire them to try going for a long walk, while giving someone running trainers or a breathable top can help them with jogging.
Spa Day
Getting pampered is incredibly good for us in terms of our stress levels and it's the perfect way to fight that cortisol and to give our heart rates a break from raging away in the office or running from event to event. A spa day is a great way to give someone this chance to unwind mentally, but it can also be a great way for them to get rid of some knots in their muscles through a massage or to clear their pores in a steam room.
Voucher
A voucher is a great way to give someone choice over what they want for their gift while still getting some say in precisely what they end up with. There are plenty of gifts that make great health conscious options – such as JJB Sports, The Body Shop or Holland and Barrats.
Bike
A bike isn't a gift you'd give to most of your friends, but if you have kids this is the ultimate way to get them outside and enjoying themselves – as well as an important rite of passage and bonding opportunity when they learn to ride for the first time.
Juicers/Blenders
Juicers/blenders are great items for any kitchen which can save us time in the morning and provide a healthy and tasty range of green. A blender can be used for a many things, but primarily they're associated with making smoothies and soups, either of which are great healthy snacks.