You would think, given the number of articles and scientific studies that have come out in recent years linking fast food to obesity and disorders such as Type 2 diabetes, liver disease, asthma, cancer, and cardiovascular disease, that most Americans would have "gotten the message."
And while the results of a recent survey conducted by the Centers for Disease Control and Prevention (CDC) show that Americans' intake of fast foods has decreased from 13 percent seven years ago, the last time such a survey was conducted, U.S. adults still get 11.3 percent of their daily calories from fast food.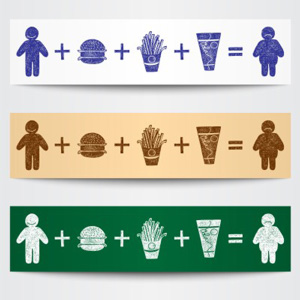 Not surprisingly, the highest percentages of fast food consumed were among obese people (13 percent of their daily calories), compared with 10 percent consumed by people of a more normal weight. No significant differences were found in consumption rates based on household income, except for young adults – those from households with the lowest incomes (under $30,000 per year) got 17 percent of their calories from fast food, as opposed to under 14 percent for young adults from households with an income over $50,000 per year. Nutrition professor Marion Nestle says regarding this income discrepancy that it's not surprising because "There are disproportionately higher numbers of fast-food restaurants in low-income neighborhoods. Fast food is accessible, and it's cheap."
Fast food by the numbers
Although the survey did not include the total number of fast food calories consumed, only percentages, previous research suggests that the average U.S. adult still consumes about 270 calories of fast food per day, the equivalent of a small hamburger. Differences were seen based on age (adults 20-39 got 15 percent of their calories from fast food, while fast food accounted for only 6 percent of the daily calories for those over age 60) and ethnicity (young white and Hispanic adults averaged 15 percent of their calories from fast food, while young black adults averaged 21 percent).
Some have reacted to this survey as being somewhat positive, in that the overall percentage of fast food calories has decreased since 2006. Clinical nutritionist Samantha Heller of the NYU Center for Musculoskeletal Care says, "The good news from this study is that as we get older, perhaps we do get wiser and eat less fast food." Other nutritionists have characterized the survey figures as unbelievably low, because the figures were based on self-reported answers, and people have a proven tendency to underestimate the amount of fast foods and junk foods they eat in such surveys. Nestle believes that people do not want to admit that they eat as much fast food as they do because they know it has a bad reputation. She says, "If I were a fast-food company, I'd say 'See, we have nothing to do with obesity. Americans are getting 90 percent of their calories somewhere else.'"
Heller notes, "A take-home message is that the study suggests that the more fast food you eat, the fatter you get. This is worrisome because obesity in one's 20s can increase the risk for metabolic syndrome, diabetes, cancer, and cardiovascular disease early in life." She continues, "Fast food is a fact of life, so we need to find ways we can live with it, not die from it. We need to encourage fast-food establishments to have a variety of healthy offerings that are marketed as cool, sexy, fun and delicious. It is important for parents to steer their children away from fast food to begin with. Having more family meals helps kids eat healthier and they are less likely to be overweight."
Last Updated on