Parents of children away at college often worry about how their offspring are coping with independent living. Are they making friends and studying hard? Are they eating properly? Are they getting enough exercise?
According to new research published in Journal of Adolescent Health, these worries may not be entirely unfounded. Meg Small, a research associate from the Prevention Research Center for the Promotion of Human Development, says that only a third of college students have a healthy diet that is consistent with national recommendations, and physical activity levels also decline rapidly over the course of several semesters.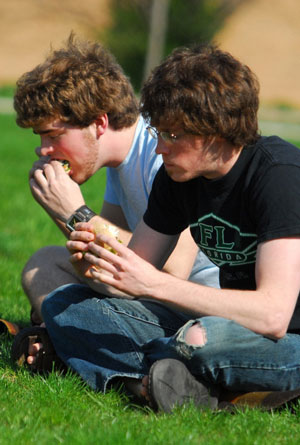 However, Small's research group have identified an interesting trend: students seem to be healthier on days that they communicate with their parents.
How was the study carried out?
Students at a large US university were asked to complete an initial survey, plus a daily questionnaire for the next 14 days. The surveys included questions about how much time students spent talking to their parents, either on the phone, by email, or even by text message. Other questions quizzed the students about their eating habits and activity levels.
For the two-week period over which the students completed the daily surveys, it was noted that they ate 14% more fruits and vegetables, and were 50% more likely to take part in at least 30 minutes of sports or activities, on the days that they communicated with their parents for 30 minutes or more. The study did not ask students what they actually talked to their parents about, nevertheless the correlation is clear.
Small believes that some parents may directly remind their children to eat better foods and take part in activities, but it is also suggested that even if healthy living was not discussed, the very act of having communicated with their parents – people who love and care for them – can be enough to prompt them into making healthier choices and taking better care of themselves.
What are the implications of the study?
This study suggests that the more parents communicate with their children, the healthier lifestyles they will lead. This is, of course, a very simplistic view and one that should be heeded with caution! As well as learning their lessons in their chosen course of study, your college child is also learning how to be an independent adult, so while it is important to keep the channels of communication open, it is equally important to get the balance right. By calling too often, parents can quite easily come across to their children as untrusting, or 'mollycoddling', while calling too little, or not at all, sends the message that you don't care.
Perhaps the best way of influencing your child's health while they are away at college, is to lead by example at home. Teach your children to cook and use inexpensive ingredients to prepare delicious and nutritious meals, help them to understand the importance of fruits and vegetables in the diet, encourage family activities that your child will want to continue at college. College students need a helping hand when transitioning from children to adults!
Last Updated on