Everyone knows that they're supposed to eat whole grains, but what everybody doesn't know is what they actually are… This might seem a little ironic, seeing as it means many of us are actively going out of our way to eat more of something without really knowing what that thing is.
To put that straight then, let's go over the basics and find out just why everyone recommends we eat whole grains and how they can help support our health.
The Bran, the Germ, the Endosperm
Essentially, whole grains are grains that contain all three parts – the bran, the germ and the endosperm. This means the grains have been added and haven't been processed by being ground down and/or broken up – which often results in some parts of the grain being left out. Even if you buy 'whole wheat' bread, that doesn't mean it's 'whole grain' because the wheat is still ground down to a powder.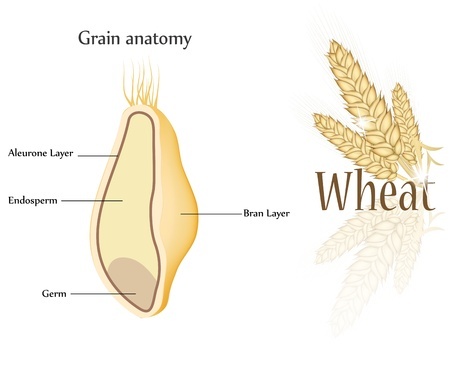 Vitamins and Nutrients
While many of us think of fruits and vegetables as being particularly good sources of vitamins and minerals, actually whole grains are just as good making this a handy way to get those substances without the insulin spike that comes from the sugar in fruit.
Not only are whole grains high in antioxidants, but they are also great sources of vitamin B, vitamin E, magnesium and iron. If you are eating whole grain rice then, you're actually getting a lot of nutrients from the carbs on your plate.
Fat Loss
At the same time, whole grains are very good for weight loss in a number of ways. That's because they provide the body with fibre, which slows down the rate of digestion and means that sugars from our foods are released more gradually into the blood stream.
This means you get a steady supply of energy throughout the day but no insulin spike that leads to weight gain. Furthermore, it means that you don't feel the need to snack on other things which is why starting the day with a whole grain cereal is a great place to start. Something like oatmeal for breakfast will help to keep you from getting hungry throughout the day thus aiding your weight loss efforts. Eating processed ('not whole' grains) will not always give you this same benefit – as the grains have been broken down they can be used for fuel much more readily by the body.
Fibre
Fibre is also good for a number of other things, such as regulating and improving bowel function, such as improving digestion and such as decreasing the levels of bad cholesterol.
Good sources of whole grains include oatmeal, rye bread, wild rice and even popcorn! Generally you can find out if a food has whole grains in it by just reading the packet. Remember that 'whole wheat' doesn't always mean whole grain though!
Last Updated on