The Microsoft Band is a fitness tracking device that is also somewhat a smartwatch. This apparently makes it a 'super watch' – a relatively new product category that is becoming more popular with the likes of the Fitbit Surge HR.
When it comes to smartwatch functionality, the Band is a rather 'middle of the line' device. It allows developers to create apps, it lets you view texts, emails and push notifications and it has a few interesting features like calendar appointments, stock reports and weather. If you have a Windows Phone then you can also respond to messages either through Cortana or via an on-screen keyboard (otherwise it's possible to send pre-composed messages).
But it's not the smartwatch functionalities we're interested in here – it's the fitness aspects. So how does Microsoft Band stack up in that regard?
Overview
Put simply, the Microsoft Band is very likely the most ambitious fitness tracker available on the market right now and can give you more insight into your health and fitness than any similar device today.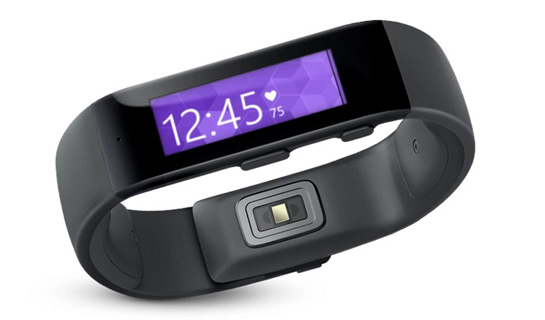 That might sound like quite a large statement but it's true in terms of the sensors alone. This little device packs in:
• A microphone
• A UV sensor
• Continuous heart rate monitor
• Galvanic skin response sensor
• Gyrometer
• Accelerometer
• GPS
• Ambient light sensor
• And skin temperature sensor
That's right: this thing can measure UV rays and tell you how long before you sunburn. It can also track you as you run and show you where you've been with no need for you to bring your phone along for the ride. It obviously also acts as a pedometer like most of these devices do these days and measure your movement during sleep.
The star of the show though is definitely the constant heart rate monitoring. Every so often the Band will measure your heart rate (or you can ask for an on-demand report) and when you look at the overview for your day you'll be able to see the averages for your heart rate every hour (and see how this ties in with things like your footsteps).
When you work out however (after selecting 'run', 'cycle' or 'workout') it will measure your heart rate for the entire duration and show you a minute-by-minute breakdown. This is highly useful for 'zone' training where the objective is to keep your heart rate at a certain level to maximize fat burning and cardio benefits. Sleep also gives you a more constant heart rate measurement which is very interesting.
This combined with your steps and movements also gives you a much more accurate measure of your calories burned so that you can actively try and reach a certain number. You'll often find yourself jogging on the spot just a little at the end of a day to reach your calorie goal and this is a big benefit of having any good fitness tracker.
For Running and Cycling
For running, the combination of all these sensors is fantastic and allows the Band to show you the precise route you took but also to show what your speed was at specific points on the run, how this was affected by elevation and how this tied in with your heart rate. The running mode 'learns' your stride too so the more you use this, the better it will become at telling you how far you've travelled when you wear the watch during the day.
You might be wondering how accurate this heart rate monitoring is. The Band uses a sensor placed on the wrist (rather than a chest strap) which means it won't be up there with the very most accurate sensors on the market. Nevertheless though, it is more effective than other wrist-worn straps and as a rule seems pretty reliable. I wore it while working out on an exercise bike with a heart rate monitor in the handles and the numbers lined up exactly throughout the entire session. A few anecdotal reports suggest that your mileage may vary depending on the pigment of your skin and the visibility of your blood vessels.
All this data is actually put to good use too. The Microsoft Health app is constantly learning from the data that users are providing it with and now it can show you your performance versus similar users (similar in terms of age, gender, weight etc.) and it can tell you how long you need to wait to recover before your next run. It also informs you of the 'fitness benefit' (i.e. whether you've sufficiently trained your heart).
When you run, you'll be shown the distance you've travelled, your heart rate and your calories burned. At each mile (or kilometer as you decide) you'll get an alert and this will also tell you your pace.
For Working Out
The Band is one of the only fitness trackers that doesn't solely focus on running – which is a real blessing for gym rats.
During a workout you get the very same heart rate tracking which shows you just how hard you're working. At the end you can see the calories you've burned too as well as the fitness benefit.
For someone interested in building muscle more than burning calories, this isn't particularly exciting. Thankfully though, the Band has a few more tricks up your sleeve.
For one, there is the option to perform guided workouts. Here, you pick a workout from a chosen brand (available brands include Men's Fitness and Gold's Gym for instance) and then set it to go. You'll then have your reps counted and get prompted for each subsequent workout (tutorials for each exercise are shown through the Health app on your phone). You can even load full programs onto the Band that will tell you which days to train and talk you through specific sessions. Ultimately, this is a bit like having a personal trainer on your wrist.
For those with Xbox's there's another cool feature too – Xbox Fitness integration. This means you can use your Kinect to go through a session of the Insanity workout and have your heart rate and calories burned logged throughout (which is extra accurate as Microsoft know the exact exercises you're using).
Wearing the Band – Practicality and Real World Benefits
So what's it actually like wearing the Band? Is it practical? What are the tangible benefits from continuous activity and heart rate monitoring?
Essentially, wearing the Band is actually very interesting, fun and rewarding. When you see that a workout has burned X number of calories, you'll often be encouraged to do just a few more and that alone makes this a useful tool for motivation. Being able to look back on runs and workouts is also rather cool and you might find yourself getting a little obsessive about it… I get quite upset now when I do a workout and fail to log it!
Beyond that though, I've also been able to learn a lot more about myself and my health. For instance, I often have a heart rate below 50 while I'm sleeping which is good – but when I drink alcohol it stays at around 65 and the Band tells me that I have 'low sleep restoration'. Seeing the effects of alcohol in such stark relief is pretty enlightening and I now think twice about having that extra beer.
I recently saw The Avengers premier and got to meet the stars. What was fun was being able to look back at the day before and see that my heart rate was a whopping 100+ due to nerves!
But there are some drawbacks and practical limitations. One of these is the size. The Band is not a small device and isn't particularly good looking either. Wearing it 24/7 is quite a commitment so really you're going to have to be rather dedicated to your fitness (though the notifications gives extra incentive to put up with it!). Also imperfect is the fact that the screen constantly gets scratched. Prior to writing this article I helped a friend with some tree surgery and it was actually a pretty good workout. After the first minute I'd scratched the screen and realized I had to take the device off – so the workout wasn't logged. Some people have worn the Band for Tough Mudder and other intensive events but I certainly wouldn't recommend it for rock climbing or anything else that might scratch your wrists.
The bigger shame in this regard is swimming. The device is only water-resistant, not water proof and this means you can't dip in the pool with it. If you swim regularly or you're a triathlete then this might be a big downside.
On the upshot though, the Band has a great battery life and will regularly last for 48 hours meaning you don't need to charge it every day. And while the large size can be awkward when you're wearing dress shirts for instance, the clasp is a smart design and it can be worn on either wrist/facing either way which makes it rather versatile.
Conclusion
In conclusion then, the Microsoft Band may not be a perfect device but it comes very close. Compared with other fitness trackers it collects way more data and Microsoft are constantly adding new features via firmware updates. The bike tile for instance is a recent addition.
This is exciting stuff because there are so many different sensors and possibilities. Developers have already done some pretty cool stuff (like adding a music control app) and Microsoft hasn't even made use of the skin temperature monitor yet for instance. The future is bright for this device indeed and even moreso for the inevitable Band 2.0 (which let's hope will be waterproof).
At around $200 it's also a great bargain and much cheaper than the Apple Watch. In short, if you're looking for a fitness tracker and you're serious about your training… you won't do better than the Microsoft Band!