A wedding is supposed to be the happiest day of your life and with any luck you'll probably find that that is indeed the case. Unfortunately though, weddings also happen to be one of the most expensive days of most people's lives, and this can sometimes take away some of the magic of a perfect fairy-tale day. In the worst case scenarios, weddings can end up getting so out-of-control and expensive that the stress ends up placing a strain on the relationship you're supposed to be celebrating and the cost ends up derailing your future plans for children or properties. You can end up heading into your marriage in debt which is hardly the perfect way to start your married life together…
But actually there's no reason for weddings to be this expensive. There are plenty of ways that you can enjoy an amazing day without breaking the bank – it's just a matter of changing the way you think about your celebration. Here are some pointers to get you started…
Remember What's Important
Tip one is to remember what's important and what's excess. Many of the things that end up costing the most at weddings are not things we need or even want, but rather things that we 'feel we should' spend the money on. It's little more than expectation, precedent and social pressure that encourages most people to spend thousands on flowers or cakes that are only going to get eaten anyway…
Let's be honest. All you need to get married is a venue and some guests. As long as you have those two things in place, the rest is all extra and all expendable. Of course that would be a pretty boring wedding and you're bound to want to spend some money making it memorable, but you don't have to do anything. Be sensible and think about the long term of your marriage, not just that one 'big day'.
Be Boho and Quirky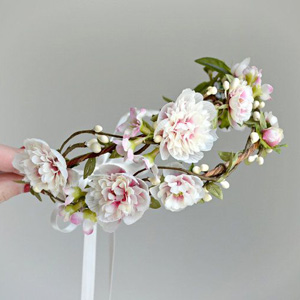 For your wedding day you will want everything to be 'special'. This is why you'll be willing to spend more money on things like your transportation and your dress than you normally would – because it makes it 'special'.
But special doesn't have to be expensive – it can also just be quirky, individual and different. If you make a conscious decision to aim for things that will fit that definition of 'special' then, you'll give yourself a free reign to save money in a whole host of ways. Instead of throwing a decadent, glamorous wedding, you could throw a personal, kitsch, boho and fun wedding instead. It's just as special, looks just as good in photos and will save you a ton of cash.
So what does it mean to be boho? Well, for instance, it might mean having balloons instead of flowers. It's quirky, it makes a visual impact, and it costs barely anything! It might alternatively mean getting every guest to bring a bunch of flowers of their own for the table and a jar to put them in – instantly you have something that's quirky, different and eclectic. Instead of riding to the wedding in an expensive limousine, you could instead ride in on a tandem bicycle, or in an old banger as a joke.
You see – if you're consciously funny or different, then you can make as big an impact or bigger with much cheaper things!
And boho venues are the cheapest of all – you can find a barn or a farm house or even a patch of woodland for relatively cheap and it will be surprising what you can accomplish if you decorate it yourself. Marquees are also worth considering.
Clearance Outlets, Wholesale
Buying one beautiful centrepiece for each table is something that can end up costing you thousands and is one of those massive expenses that's easy to forget. Surprisingly though, it's often cheaper to get the same effect by buying lots of smaller items rather than one 'big one'. You could make an incredible impression for instance by buying a bag of electric tealights wholesale and then covering your table in them. 200 tiny flickering lights makes just as much of an impression as an ice sculpture and costs barely a fraction of the price. You could buy hundreds of scarves to use as decorations from a wholesale clothes shop – or just cut them up to use the material. There are countless options if you take a look around wholesale stores online or around clearance outlets.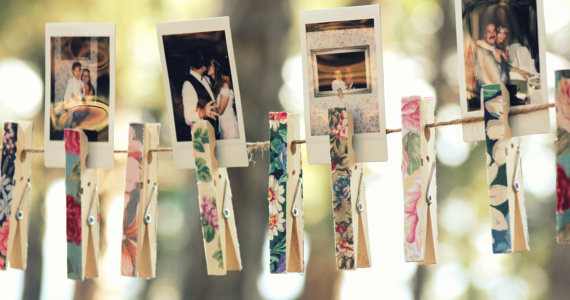 Another option is to buy quirky objects from charity shops and from car-boot sales. Here you find all sorts of hidden gems that will make a truly unique impression on your guests and really give you something unique. That might be a giant statue of an owl, or a pile of old books – either of which can add something interesting cheaply.
Call in Favours
Now's also a great time to call in your favours and to get help from those friends with useful skills – people who can make cakes, people who can tailor dresses, hairdressers, musicians, artists etc. If you don't have a friend who can bake a cake… perhaps it's time to try and meet one? And remember to take advantage of your extended network too: friends of friends are very useful.
It's also worth noting that friends who don't have specific skills can still be useful. If you get every one of your guests to do something then you can create some pretty amazing effects – get every guest to bring an item of savoury food and that's your meal sorted. Get every guest to bring a bottle of champagne and that's your alcohol sorted. Ask every guest to take a few photos and that's your photographer out of the picture. Get every guest to make a place name for one of the other guests… and best of all it's fun and it involves everyone in your wedding.
Find the Cheaper Services
If you search online for venues, for hairdressers, for musicians, then you are going to end up paying over the odds. Why? Because the top results will be from the companies that have the money to pour into their marketing, their web design and their SEO. The smaller organisations with fewer resources meanwhile are harder to find, so make sure that you take the time and the effort to seek them out and to try messaging them in person to arrange a good deal.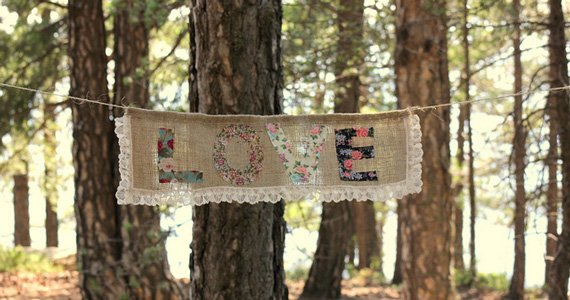 Non-Wedding Stuff
As soon as you say that something is for a wedding you'll find that the price is marked up and you end up paying over the odds. For instance, if you pay for flowers and don't say that they're for a wedding – they'll be cheaper. Pay for invitations and don't say they're for a wedding – cheaper (just buy cards on VistaPrint or MoonPig for a fraction of a cost!).
You can even start to get really cheeky here. Hire a venue such as a hall without saying that it's for a wedding. Get your makeup done in a department store for free. Get some photos in your regalia by rocking up to a photo studio. There are lots of little tricks you can use here!
DIY
If you're someone who is handy and creative then you'll be surprised just how capable you probably are of making aspects of the wedding yourself – whether that means making your own dress or making your own wedding cake. And even if it doesn't look quite as good as the professional versions, it will be more unique, more personal and it will have a story behind it.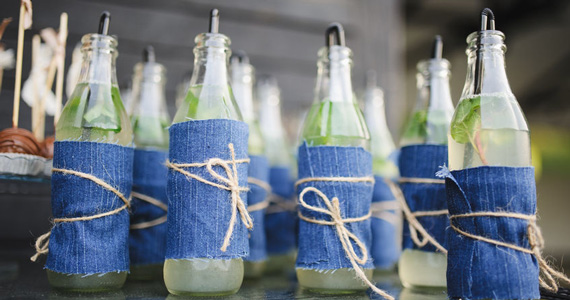 Ceremony Venues
If you're religious then a great benefit of getting married in a church is that you now don't have to pay much – or anything – for the actual ceremony itself. If you aren't religious then at least try to get married in the same venue that you host your reception – you'll save a ton of money.
Invitations
The more people you invite, the more expensive your wedding becomes. This then creates an awkward situation where you have to leave people out, but it's worth offending a few people if it means you won't get into terrible debt.
The best way to handle this is to invite the people you didn't want to cut out to the actual ceremony and to the disco at the end – but to just leave them out of the wedding breakfast. That way they'll know they're important to you and good friends will be sure to understand that you just can't afford to feed a hundred mouths at this point in your life.
If you explain to people that you're not in a strong financial position, then this also gives you more of a free reign to ask to take shortcuts and to cut some more corners. For instance, you could apologise and ask for the bridesmaids to pay for their own dresses and their grooms their own suits. Having a smaller wedding party is also preferable in terms of costs.
Catering
And speaking of catering, remember that a buffet is always much cheaper than a set menu. Of course it's not quite so formal either, but it has a lot of other benefits – such as the fact that you won't need to worry about people with specific allergies and other eating requirements.
Lessening the Financial Burden
Thinking about your wedding this way you will create a fun and unique event that doesn't have to cost as much as many traditional weddings are renowned for. It's still going to be a big hit on your finances though, which is why you should think about the ways that you can make it a bit easier on your cash flow.
One way to do this is to buy on finance. That means that you pay the same amount (check it's 0% APR), but you pay it over the course of several months or even years. This way your wedding venue can become much more affordable. Meanwhile you can also ask parents if they'd like to contribute by paying for specific items such as the bride's dress or maybe the photographer. You shouldn't expect your parents to pay these days – that's an old tradition and it's rude to ever anticipate money. However you can always just ask as a little nudge…
Finally, if you really want to reduce the financial impact of your wedding day, then you should consider asking for money instead of gifts from your guests. If you get $20 each from a hundred guests that's $2,000 back off the cost of the wedding – and realistically you can expect people to bring significantly more so you're looking at several thousand dollars!
Be smart then and be creative and you can make your wedding much more original and unique and save a fortune doing so!