When looking for and preparing vegetables for meals, many people overlook the spaghetti squash. This large oblong-shaped member of the winter squash family looks a bit intimidating and without some help, many people would cut it open and then wonder what to do with it.
The reality is that spaghetti squash is a very simple vegetable to cook and can be prepared in a variety of ways. The squash can be baked, boiled, steamed, or microwaved. The easiest and most consistent method is simply baking. Once cooked, it can be eaten as is, or used instead of pasta in a variety of dishes.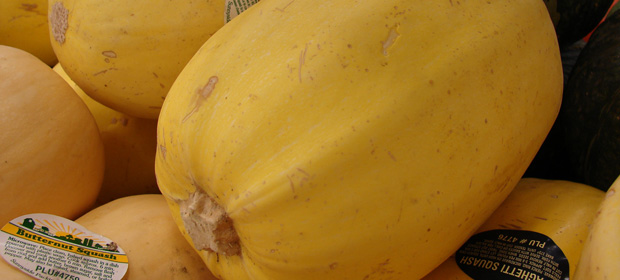 Regardless of the cooking method, initial preparation is the same. Slice the spaghetti squash in half lengthwise. You will see a lot of pulp and seeds in the center. Using a large spoon, scrape all the loose pulp and seeds out and discard. Once you have scraped away the pulp, you are faced with a firm yellow meat. Don't keep scraping on this as the fiber will continue to grate away.
Place the two halves on a baking sheet in a 350' oven and cook for forty-five minutes. It doesn't much matter whether face up or down. When it is cooked, remove from the oven. It is now ready to season and eat or prepare to use in a recipe.
To eat it, season with a little salt and pepper if desired. You can add a bit of butter to taste also. Then, scrape at the meat of the squash with the tines of your fork and you will pull away long, stringy fibers. Eat and enjoy. You will be able to scrape this down to a paper thin hull.
If you want to use it like pasta, just scrape all the fibers out into a serving dish and top with your favorite sauce. Another great way to use it is in lasagna. Just substitute the spaghetti squash for the pasta in your favorite lasagna recipe and cook as normal. This will create a tasty, lower calorie and low carbohydrate version of lasagna. For dishes like this, it may be easier to cook the squash in advance, so you can scrape out the insides while cool.
If you don't have a lasagna recipe, it is very easy to prepare. Cook your favorite spaghetti sauce, or use whatever canned or bottled sauce you like. Add browned and drained ground beef or sausage if desired. Alternate layers in a casserole dish with the spaghetti squash, your sauce, and cheese. You can use ricotta for a traditional lasagna, or substitute mozzarella, provolone, or the cheese of your choice. Usually you will have two layers of each.
Bake in a 350' oven for 30 minutes and enjoy!