Pokémon Go took the world by storm when it was first released and really did become something of a cultural phenomenon in a very short amount of time.
And it's easy to see why: Pokémon Go managed to effectively marry a beloved childhood TV show/computer game with a very addictive gameplay and put it on mobile. Combine this with some rather innovative use of AR and some clear social sharing elements and you have a product that was always bound to take off.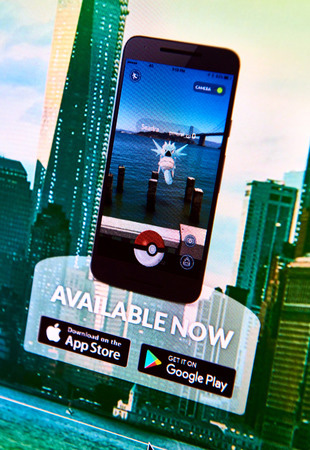 But is Pokémon Go a good thing? After all, it means we're spending more time on our phones when we should be looking at the world around us – and it has resulting in more than one person walking out into the road, tripping over or even… discovering a dead body!
Whatever anyone says though, Pokémon Go does have the capacity to get us to exercise more. And if you combine this extra walking with some workout routines and fitness programs designed specifically around the game, then it can be a great way to get more fresh air, more sunlight and more exercise!
How it Works
In case you've been living under a rock, Pokémon Go challenges players to find Pokémon out in the real world (Pokémon being little monsters that are usually pretty cute and occasionally formidable looking). This involves looking at an in-game map that uses data from Google Maps and then tracking down hotspots called 'Pokéstops'. The game will tell you if there are Pokémon nearby and if it's one you haven't caught you, you can walk around the area until you stumble upon it. This will then trigger a mini-game that involves throwing Pokéballs to try and capture the critters, after which you'll be free to continue wandering around. You can also run out of Pokéballs but these are replenished at Pokéstops too.
There are other elements too, such as gyms that you can battle in and 'lures' that attract Pokémon but for the most part, the game involves lots of walking around until something appears. And that's how you get the exercise benefits!
Using Pokémon Go to Run
Whenever you play Pokémon Go then, it is going to involve a lot of walking around waiting for wild Pokémon to appear. This is immediately going to help burn calories, tone your legs and help you to increase your cardio fitness. This is further encouraged by 'eggs' which you hatch by walking a certain number of steps.
But you can catch more Pokémon by running with your phone instead. This allows you to cover more ground and thereby catch more Pokémon – and also means you can hatch eggs in less time!
Now of course running around with your face in your phone has the potential to be dangerous, which is why it's always a good idea to avoid scenarios where you're staring at your phone the entire time. You can do this by going into the settings menu and selecting 'Power Saving'. This way, when you point the phone downward, the screen will turn off to save battery. What this also does though, is to prevent the screen from triggering when touched.
This means that you can now put your phone in your pocket while leaving Pokémon on, or just hold it in one hand while jogging. The good news is that when you get near to a Pokémon, the phone will buzz meaning that you can then pull it out and check it. You can also play while cycling this way! (And the new Pokémon Go smartwatch makes this even easier, as you won't need to keep checking your phone!)
You may be wondering why you would ever want to run while playing Pokémon Go. The simple answer is that Pokémon Go is addictive and rewarding – like most games, it appeals to the reward centers in our brain and this means that you're much more likely to actually head out and go for a run.
What's more, is that running with Pokémon Go is a fun way to give yourself more direction. By creating a route from Pokéstop to Pokéstop, you give your run more purpose and you can never be sure where you're going to end up!
HIIT With Pokémon Go
But the very nature of Pokémon Go introduces another interesting way to train, as you can turn it into a kind of HIIT workout. HIIT of course is 'High Intensity Interval Training' and it involves alternating between periods of high intensity and periods of relative inactivity – so for example you might sprint for 30 seconds and then jog for two minutes.
With Pokémon Go though, you can alternate between slightly faster periods of running and then pausing to catch the Pokémon. You won't be able to sprint (because you'll often go more than a few minutes without seeing anything) but if you run at a higher than average pace, then the catching mini-game should give you just enough time to recover and go again!
Just don't let anyone see what you're doing – or your hip HIIT workout will immediately turn into something a lot less cool…
Last Updated on