Taking things too seriously is in a way a very admirable and pleasant quality. It means that you are earnest and honest and it probably means that you want to make sure everything is just so and everyone is happy.
However at the same time it can also be something of a nightmare for you as it means that you are stressing and upset about things that really shouldn't matter. At the same time some people will take advantage of your nature and tease you with things, while others might seem somewhat offended by the fact that you take their jokes and comments seriously and feel like they can't joke with you as a result. And as you take things seriously you will likely be hurt by this too. Lightening up and taking things less seriously can make life seem more fun and a lot less stressful and it can help you to relax more easily and let go. Here we will look at why you might take life too seriously and how to let go and enjoy it a little more.
Where Does it Come From?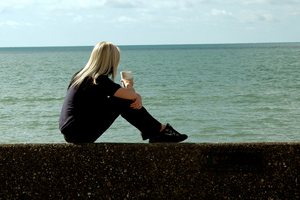 If you take things to seriously then this probably just means that you're the sort of person who worries a lot. Freud would describe this as having an 'overactive superego' – the superego being the part of the psyche that makes sure we stick to societal norms, follow rules and don't just give in to all of our urges and desires. This kind of overactive conscience tends to come from our parents and what they said to us as children – if they were constantly warning us of potential dangers and telling us to be careful then this can cause us to be overdeveloped in that sense ourselves. We're used to focusing on the potential threats and not just letting go and it's almost our parent's voice we are hearing echoing in our head.
At the same time you may just be the sort who takes life seriously. Perhaps you were always pushed to achieve, and maybe you just don't get that much enjoyment out of playing and jokes and prefer to do well and succeed. That's good and well, but in reality an inability to laugh may actually prevent you from progressing as far as you might like and especially if it prevents you from taking chances or thinking outside the box. It's important to recapture some youthful imagination and to enjoy playing around with life and having fun.
Some people also just struggle not to take things literally and might struggle with jokes or games simply because they are taking them at face value (this actually may be a symptom of ASD – Autism Spectrum Disorder). Try to look past what people are saying and get the intention behind it – and remember they're just words.
Other Ways to Look at Life
The thing is, none of us really know why we're here or what the point of life is. This means that we are striving towards an uncertain goal and we don't know whether there will be any reward afterward or not. In other words then there is no 'right' or 'wrong' way to live life, and there is no reason not to just enjoy it now. If you don't spend any time enjoying yourself then you might well find that you missed your one opportunity and had nothing to show for it. In fact studies have shown that when we are given the opportunity to do something unusual and fun, we will tend to look back on the event more fondly if we throw caution to the wind than we would if we took the 'sensible' option and saved money or stayed safe. There is no one who can tell you that you shouldn't be having fun, and there is no authority higher than yourself so you should just focus on finding meaning but having a lot of fun while you do.
This also means that whatever your end goal is, it doesn't really matter whether your plans are ruined. It's all about the journey of getting there and about the fun you have on the way and not really what you actually achieve as you can't take it with you. So if you went to an interview for a job you wanted but didn't get it because you got pooed on by a seagull on the way in – at least you have a funny story and that experience will help give your life more meaning. Try to think how your life looks to people on the outside and if it's colorful interesting and funny then surely that's a good thing – and actually a better thing than if it all just went smoothly but uneventfully? Looking at your life from an outside perspective as though it were a sitcom or a book can help you to see the funny side of a lot more things, and it will also show you how the little hiccups along the way are actually what makes life fun. So someone is teasing you… would life be any fun if everyone was just courteous? Isn't it just typical? Because at the end of the day, what do they know and who cares about what they think? They're just more colorful characters in the cast of your life. And anyway if you have the option of getting upset or seeing the funny side then which is the more productive? And if you laugh with them that's the one sure fire way to get them to stop and side with you. People like someone who can laugh at themselves.
Ways to Lighten Up
Reading a case for lightening up though isn't going to suddenly change your thinking and unfortunately it's just not that easy. There are other ways you can make sure you stay fun and don't take life too seriously. For instance make sure you do lots of fun things and seize opportunities to just goof off when they arise. At the same time spend lots of time with friends – because if they're really good friends then they'll tease you and they won't let you take life too seriously. This isn't a bad thing, it's a sign that they regard you fondly. And even just watching a lot of comedies can help you to see what makes it so funny when something goes wrong. And if you see the funny side, and the fun side in everything that happens, then suddenly life becomes a lot more pleasant and you'll find you can get value out of anything.