Cases of feral children are often highly tragic, but also often highly fascinating from a psychological and scientific standpoint. A feral child essentially is a child who has been isolated from human contact substantially or entirely meaning that they have little to no interaction or care. Such cases occur when children are for example lost and live with animals, but also when they have been subjects of abuse from cruel parents, or otherwise 'trapped'.
Feral children cases give us an insight into how humans might behave in the absence of culture and many of the environmental factors most of us experience growing up and this can shed light on such subjects as language development, morality, social skills and more. Often however feral children will also experience psychological and physical abuse which can cloud the findings, while at the same time there are too many ethical considerations in order for such situations to be purposefully constructed.
Findings
Children brought up in captivity or isolation will normally exhibit a complete lack of social skills learned through enculturation and these can include other basic skills too – such as the ability to use the toilet or even to walk upright. They will tend to demonstrate a lack of interest in other humans. Those children found later in their life will often exhibit signs of mental impairment, and will in most cases be unable to subsequently learn language. This may be due to the physical effect that enculturation can have on the brain due to brain plasticity – put simply if you don't use it you 'lose it' in much the same way that a child who never moved would have difficulty subsequently developing muscle.
Many theories of psychology have been generated as a result of studies on feral children. The 'critical period hypothesis' for instance is based on the above observations that there seems to be a 'window' for learning language and other skills during development. Similarly Chomsky's 'language acquisition device' is linked to such discoveries and observations of children raised together in captivity.
Modern Cases
Cases of modern children are not something that are confined purely to the history books, and there are many modern cases that have occurred more recently. We must be careful however in accepting reports of feral children, as some of the stories are based on unverified claims. Recently in 2008 a Belgian newspaper reported that the well known book 'Misha: A Memoire of the Holocaust Years' and movie 'Surviving With Wolves', both dealing with the subject, were hoaxes and not based in reality as claimed.
That said there are also several modern cases of feral children that have been studied thoroughly and are accepted as factual by the scientific community. Here are a few examples of these fascinating real-life cases.
Danielle Crockett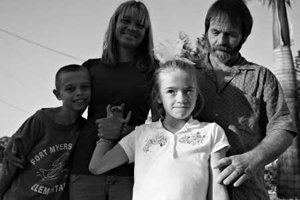 Danielle Crockett, who today is known as 'Dani Lierow', spent her childhood in a dark room filled with dirty diapers, faeces, urine and cockroaches. While she did live with her Mother and two adult brothers, she spent her life completely neglected with no care beyond basic feeding. As such, when she was discovered aged seven years old she was unable to speak, walk, use the toilet or even chew and swallow whole food. She has since been adopted by a couple and has learned to follow basic instructions and to walk, though she still cannot speak.
Genie
Genie was discovered in 1970 in a home in Los Angeles where she had been confined to a single room by her father for the first 12 years of her life. Further, she spent her days physically tied to the toilet wearing diapers, while she was bound in a sleeping bag in a closed off crib during the night. She was beaten if she made any kind of noise at all.
When she was rescued at the age of thirteen, Genie was able to speak only 20 words which included things such as 'stop it' and 'no more'. She walked using what was referred to as a 'bunny walk' which featured an awkward gait and her hands held up in front of her. She would not speak, but would spit and scratch.
After much practice and help, Genie developed the ability to speak one word answers and could even dress herself. At the time doctors expected she would be experience a full recovery. She developed a fascination with collecting coloured objects, would socialize with familiar adults, and seemed to enjoy classical music. However lack of funding and interest eventually lead to her help being stopped and she regressed back to the traits of her earlier state.
Oxana Malaya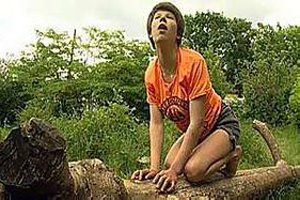 Oxana Malaya was found at the age of eight living among dogs in Ukraine in 1991 which she had done since the age of three. As a result she demonstrated a lack of ability to learn language and exhibited dog-like traits such as barking, walking on all fours, howling, sniffing and digging. She formed a powerful bond with the dogs at the time, such that when authorities attempted to rescue her, they were driven away by them. The only words she could speak were 'yes' and 'no'.
After being rescued Oxana found it difficult to learn normal language and behaviour, though eventually she overcame these difficulties. Whether this was due to more successful care, or whether it was the advantage of spending the first 3 years with her parents, or perhaps even having the social interaction of the dogs is unsure.