I have to admit it… I am in fact a guy. And as a guy, it follows that I sometimes perv at hot girls. This is a problem as I'm in a happy relationship with my long-term girlfriend. I'm really genuinely happy with her, she means the world to me and I would never cheat. I also happen to think she's the most beautiful lady on the planet. Except for maybe Scarlett Johansson…
None of this however, prevents me from perving. And sometimes when a hot woman walks past, it actually feels like a pang of pain going through my loins. Other times I lose my breath like I've been punched in the stomach and then I sit there 'yearning' like a puppy who wants a biscuit. It's pathetic.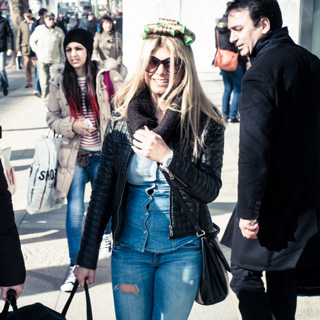 Of course I feel somewhat guilty about this adulterous thought process, but I don't beat myself up about it: after all, every guy feels that way from time to time. The question is: why do we get that urge in the first place? And is there anything you can do about it? Read on, because I think the answers may actually surprise you somewhat…
What Makes Us Guys
Surely you already know much of the reason that guys perv at girls – whether you're a guy or whether you're a girl. Thing is that we've evolved to perv at girls and in the wild this is what would ensure that we 'spread our seed' as much as possible. Our evolutionary imperative is to ensure the greatest chance of our DNA being passed on and surviving and as such it makes sense that we were born with an urge to sleep with lots of women.
There are biological reasons behind this too. Mostly you can thank all the testosterone flowing through your veins, which is also what's responsible for your stubble and your hairy chest. This is largely what sets men apart from women, what makes guys guys, and that's why men are generally hornier than women. Of course you could look into ways of lowering your testosterone, but you'd also lose muscle mass, drive and general alpha-male status.
The Surprising Bit
But there's a surprising bit too, and that's the social and psychological element that gives us such a strong urge to play away from home (whether or not we act on it). To illustrate my point, imagine if you will a virtual girlfriend. We're twenty years into the future and technology has now progressed to the point where virtual reality interfaces directly with your brain making it impossible to tell the difference between a real experience and a virtual experience. This has brought about incredible revolutions in porn. Now you can sleep with any woman that you can imagine. She can look however you want her too, she can do whatever you want her to, and she will wear whatever you want her too. The implications on your relationship aside, this is seventh heaven for male-kind.
Now imagine that you can go home and plug into this virtual experience at any time. You're in a bar away from your girlfriend and a hot woman walks past in high heels. She has tight trousers on that cling to her buttocks, an ample bosom that bobs up and down as she walks and beautiful blonde hair with striking red lipstick. Crucially, as she walks past she winks at you and gesture for you to follow her and her friends into the club she's heading into to.
Do you still get that yearning? Even knowing you can have sex with a virtual girl just like her as soon as you get home? Of course you do. So what is it that sets this kind of experience apart?
Of course it's ego. The point is, that for many men, the idea of sleeping with women is so appealing partly because it massages our ego. We are fundamentally tied to our sexual conquests, so much so that admitting that you've only slept with three women to your mates is something many of us would probably never do. The fact that a hot woman winked at us is a) a chance to increase the number of notches on our bed post, b) proof that we are still fanciable and attractive and c) incredibly flattering. Then you go home to your girlfriend horny and she isn't in the mood for sex. Unfairly you can end up actually resentful of your loving partner. 'I turned down a chance for sex with a hot stranger who wanted me, and you can't even be bothered to say thank you!'.
I have a friend who often sleeps with partners other than his long-term girlfriend, even though he seems to love her dearly and she's more than happy to satisfy his every sexual need. What makes him do it? Low self-esteem.
The Solution
This is hardly healthy and it's actually quite pathetic. Your mate who brags about sleeping with fifty women a week isn't really happy you know – he's just looking for verification in order to make himself feel better. He probably doesn't have a great job, or wasn't his Mum's favourite child…
Instead of yearning after every hot piece of ass who passes you by then, instead try to get things in perspective. Remember that it's much better to be loved by someone than it is to have meaningless sex with a woman who probably also has low self-esteem and resents you for reminding her of her Father. And remember that at the end of the day it is just sex. Society, and more precisely your mates, have taught you to associate sexual conquest with success, but actually the two have nothing in common. Being a success means having a happy family, being content and probably being an internet entrepreneur with a million dollar start-up.
Who really cares if you sleep with one more woman? And manage to con your way into twenty minutes of fun? Nobody. So get over it.