Introducing your parents to your friends for the first time can be an awkward and nerve-wracking experience. Introducing any new people for the first time can feel awkward enough but in this situation it will likely be important to you that everyone gets on. Friends and parents can feel worlds apart too, so it can be difficult to predict how the two groups will get on with each other. However, it is rare for meetings like this to go wrong – remember that everyone present wants it to go well for your sake and so will likely put in the effort. The key to a good introduction is to prepare in advance and advise everyone to be on their best behavior on the day. Who knows, maybe they will even become buddies! Which may arguably seem much worse…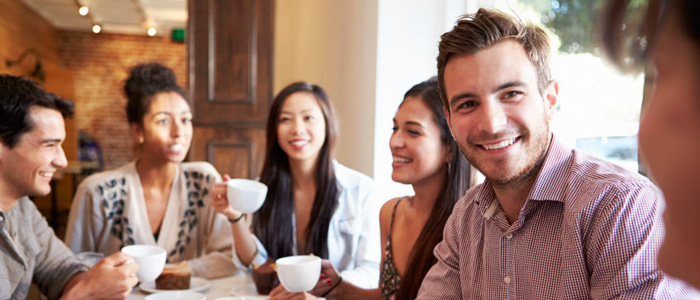 Discuss Your Parents and Your Friends
If the meeting of your parents and your friends is a planned event, make things a little less intense by discussing each party with the other; this will help them to start to prepare for your meeting. There are many aspects you may wish to describe; their personality, their occupations, their upbringings, the things they enjoy, the things they dislike, their culture and religion. Describing your friends to your parents will help them to feel familiar with them before meeting and vice versa. A good description may also serve to avoid awkward conversations being started and difficult questions asked. If your friends are visiting your family home and it is a formal occasion, it is worth advising your friends whether they should bring a small gift with them and on any other etiquette that they should observe.
Find a Comfortable Meeting Place
It is not always possible to find a meeting place that suits everyone; if your friends are visiting your family home your parents will oversee the entertainment. Likewise, if your parents meet your friends in your school, university or work place they may feel out of their depth. If you are in charge of organizing a venue for your meeting, have a think about the places where your friends and family all feel comfortable – ideally somewhere that is 'neutral territory'. It could be a restaurant that you all have visited or your own accommodation. Think of ways to make people feel welcome; this could be by turning on music that everyone enjoys, serving a meal that everyone likes or visiting a venue that everyone enjoys. Provide potential topics of conversation and try to find ways to keep everyone busy but interacting. Ensuring that everyone feels comfortable as quickly as possible will help to avoid anyone awkwardly standing on ceremony.
Prepare for Difficult Questions
Your parents and your friends may be apprehensive about meeting each other but they may also be interested to finally meet. When they have heard so much about the other party it can be interesting to put a face to the name and have a chance to get to know one another. One aspect of this is asking each other questions. It is advisable to prepare for any awkward questions in advance of the meeting. Parents may be keen to learn about their child's friends; their aims in life, their interests and the experiences that you have shared together. Friends may ask about your past and your family life. It is also possible that embarrassing stories about you may be shared with gusto around the table. If there are any questions or topics that should not be discussed, be careful to warn both parties in advance to avoid any embarrassment on the day.
Dress Appropriately
First impressions can be made in only a couple of seconds, normally based on appearance and the clothing worn. If your parents are likely to take offence at your friends' clothing warn your friends in advance to be considerate. Low cut, untidy, old or ill-fitting clothes may cause your parents to make a bad impression of your friends when they meet. Encourage your friends to dress smartly for the encounter but of course allow them to be themselves at the same time. Likewise, if your parents are likely to dress in a way that makes the meeting uncomfortable (we all have those embarrassing family members) encourage them to wear something different.
Be on Time
Being delayed in arriving can upset many people, especially prior to a meal or a ticketed event. Advise your friends and your parents to plan their travel arrangements carefully. If appropriate, guide them on the best routes. Keep an eye on travel reports to avoid any delays.
Timing
Time is also an important factor in another sense: in that there will be good and bad times for introductions to be made. The best time for your parents to meet your friends for instance is not after a drunken night out and likewise you should avoid introducing your parents when they're stressed for any reason. Pick your timing carefully if this is an introduction you want to go well.
Be Polite
It should go without saying that everyone should be on their best behavior with each other. If your friends and parents are not normally polite in their interactions then encourage them to be more cordial at your meeting and explain that it's important to you. If you are honest with them and show that you have their best interests at heart, then they should make the effort.
Don't Worry Too Much
But ultimately, don't worry too much about the meeting. While it would be ideal for your friends and family to get on, it is not crucial by any means and you should still be able to enjoy spending time with both parties. While you can do everything possible to ensure that you improve the odds of an introduction going well, it's nevertheless more important that everyone be themselves. And if they don't get on? Then you'll just have to keep them apart in future.