We might make jokes about water cooler gossip, but workplace stress is no laughing matter. In fact, office angst costs approximately $300 billion dollars a year in lost productivity, according to "Business News Daily." That's a huge price tag for a problem that, while we can never eliminate, we can take steps to effectively manage. You can reduce the work related stress in your life with a mix of common sense, organization and a good attitude.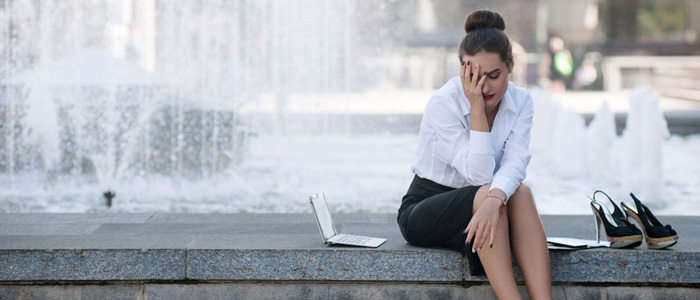 Take Care of Your Physical Health
Mind and body are intimately related. When your diet is poor, your sleep is inadequate and your mental state will suffer. Those claims seem like common sense, but there is science to back them up. A recent Harvard study estimated that the cost of sleep deprivation alone was a staggering $63.2 billion in the United States alone. Be intentional about the foods you consume, rest and the exercise you get – office-related stress will soon become easier to handle.
Write it Down
With so many tasks and meetings to manage, the average worker simply can't remember all the things he or she is responsible for on any given day, let alone long-term. By committing the items to you need to attend to a single list and your calendar, you essentially free your mind to process other information and focus on the task at hand. Working from that state – which noted productivity expert David Allen calls a "mind like water" – will help you get more done, expend less energy, and avoid unnecessary stressors.
Chart Your Progress
Few things are more stressful than chipping away at a large project and leaving at the end of the day feeling like you didn't really accomplish anything. The problem isn't that you're not making progress; the problem is that you're not measuring it. Break your project down into reasonable tasks and decide upfront what your metrics and milestones will be. This will not only relieve some stress, but will also likely give your productivity a boost. Bob Parsons, founder of GoDaddy, nails this point on Lifehack.org when he says, "I swear this is true. Anything that is measured and watched improves."
Modify Your Environment
Often, you can ease workplace stress by taking a modicum of control over your work environment. For example, if you are an introvert, getting things done in a cubicle in the middle of an open-plan office is probably not going to be ideal. While you may not be able to request a corner office with a nice view and a door you can shut, you can use a few pictures and perhaps a little greenery to make your space feel more private and congenial.
Modify Your Job
Finally, if the stress you experience at work is absolutely unrelenting, ask yourself if you are in a job that utilizes your strengths rather than one that relies on your weaknesses. If the answer is "no" don't panic – you may not necessarily need to start pounding the pavement in search of a new job. First, ask yourself how you could use your strengths to deliver value within your current position. If you have some good ideas, everyone stands to win, and a talk with your manager could be in order.