Liver cirrhosis is a disease characterized by liver inflammation, which can have lethal effects on a person's health. We all know that liver plays a great role in several bodily functions. Victims may have a hard time keeping up with their health as liver functions are brought to a standstill. As such, there are different factors that can lead to this condition. Alcohol abuse is cited as the main culprit over here followed by Hepatitis C and Hepatitis B.
Fortunately, our body is gifted with amazing healing abilities, and our liver has limited capabilities to repair the damage done to it. However, if the damage caused to the liver is intense, then one may have to suffer a lot.
There are plenty of symptoms associated with this condition that can raise alarm bells for early treatment. A victim may experience one or combination of symptoms such as improper digestion, vomiting, pain in the abdominal area, fatigue, dizziness, lack of appetite, drop in body weight and swelling in both the legs. The irony lies in the fact that health complications increase as the ailment progresses, thereby inviting more troublesome symptoms in one's life. Below is a list of some major symptoms associated with this ailment.
-Blood clotting is an apparent feature as the ailment progresses, and the infected person may bleed very easily.
-Portal hypertension is another potential symptom associated with this condition.
-Low platelet count will be witnessed amongst the patients.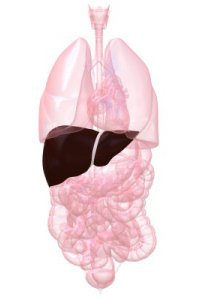 -Yellowing of the skin.
-Dark urine.
-Increase in heart beat.
-Large tummy due to fluid piling in the abdominal area.
-Change in personality as the toxins can affect the brain as well.
-Bleeding gums.
-Some victims may omit blood while vomiting.
-Memory issues may also develop over a period of time.
-Bleeding in the nose.
-Muscle cramps and shooting pain in the right shoulder can also be experienced by some victims.
Apart from the above mentioned symptoms, the body will showcase a decline in the overall health. Once considered as an act of comfort will no longer appear trouble-free because of deteriorating health. For instance, a person may be seen staggering while performing a basic act such as walking. Also, the body may have a hard time processing alcohol and drugs, despite your liking towards these substances. Goes without saying, one should eradicate or curb the intake of these substances from their lives to be able to experience a quick recovery.
The major issue involved with this ailment is that a person may not realize that he/she is suffering from the problem, until the condition worsens. More than often, the ailment is detected when is patient is being tested for some other disease. If you are amongst the lucky ones to be able to detect the ailment early, then your chances of speedy recovery is very bright. That being said, irrespective of the stage at which the disease is diagnosed, proper health care should be ascertained.