Chafing thighs can be quite an unpleasant and painful experience that makes the simple act of walking to work or to the shops unpleasant and painful. It can also end up leaving you with nasty red sore patches on the insides of your upper thighs and this can then cause you to experience pain whenever you subsequently need to go for a walk or a jog.
There are several things that make chafing more likely. Of course it is associated with obesity and this is largely because being overweight makes your legs larger and thus increases the likelihood of them rubbing together when you walk. Furthermore, if you have chafing thighs this may be a result of certain exercise and strain on your part – if you are a runner for instance then your legs will regularly rub together and this will lead to chafing. Being sweaty meanwhile makes you more likely to chafe as your legs become more likely to stick together, and wearing the wrong clothing can exacerbate this matter. Finally if you workout, or otherwise train your legs, then you might find that they become bulky and muscular as a result and this can have the same effect as if you were obese.
The red marks are the main sign that chafing is your problem, and these will worsen as you walk. If you examine the area it will look like a friction burn (like your hand looks after sliding down a rope) and it will likely sting. Touch it or get water on it and it may burn. It's of course not at all dangerous or threatening to experience chaffing, just merely unpleasant – though if you're very unfortunate the broken skin could become infected resulting in complications.
Luckily there are many ways to prevent chaffing and to address the issue. Here we will look at what some of those methods are.
Wearing the Right Clothes
Your clothing can cause chafing for many reasons. If your leg wear is too baggy or too short for instance then it might not be protecting the insides of your legs from rubbing together. By getting trousers or shorts that go down below the upper thigh, and that fit tightly to the skin you can add a protective layer to prevent chaffing.
In some cases though it's that very 'protective layer' that's the problem and you of course don't want your clothes to rub against your skin either. Important then is to find clothing that is soft and that doesn't irritate the skin. Neoprene is a good material, as are cotton clothes.
Another issue is sweat, and as mentioned sweat makes your skin more likely to rub. To prevent sweat you need to wear clothes that are breathable and that won't get to sweaty. Linen is great for this but can chaff itself sometimes, cotton too is good, as is neoprene or rubber if it is ventilated. If you are a runner or cyclist, then there are is lots of specially made leg wear out there designed to be tight and protective while at the same time allowing your skin to breath and avoiding sweat.
Fight Sweat
Fighting sweat in other ways can help too. For instance a popular option is to use talcum powder and to pepper that on the insides of your thighs which is adept at soaking up sweat and thus keeping your legs smooth and slick. As mentioned previously, some clothes are also designed specifically to combat sweat for athletes.
Hydrate
That said, you don't want your skin to become too dry either, as if it does it will again be more prone to sticking and to breaking. To prevent this from happening you need to hydrate yourself thoroughly by drinking lots of water. This will also help to replace any fluids you are losing through sweat which is important. If you are an athlete then use isotonic water to replace the salts lost through perspiration too.
Lubricate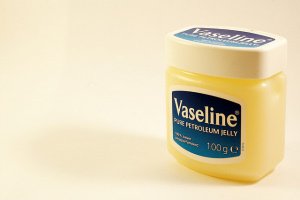 If you don't want to use talcum powder then you can go the other route and lubricate yourself up to prevent your skin rubbing. This way your skin will be slippery and will not rub and it's a great way to prevent the chaffing. Petroleum jelly is particularly popular for helping this and it is also useful for soothing the area and reducing irritation. Baby oil is great for this too.
Have Dry Clothes
It's important that your clothes are clean and dry to start with, and if they get wet they will rub against your skin. Try to avoid this being a problem by ensuring your clothes are fully dried before you go out in them. Of course if it rains then they can become wet through again, so seek shelter if it starts.
Take a Break
If you feel the chaffing then don't 'power through' as this will cause it to worsen at a rapid rate. Instead, take a break and sit down for a bit to dry your legs with a towel if you carry one or to apply bandages etc. Even if you just sit down this can help you to stop sweating so that the problem isn't as bad when you return.
Plasters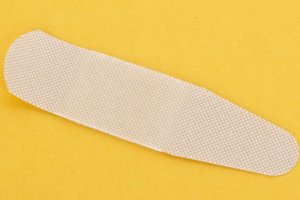 Once you have your cuff burns you will find that you can struggle to get rid of them – because every time you subsequently walk anywhere etc you will be rubbing them all over again. Use plasters then and you can cover up the burns and the red areas to provide relief and to protect them from rubbing again.
Use Clean Clothes
Clean clothes are also important – primarily not to prevent chaffing, but to prevent your wounds from becoming infected. Don't wear clothes that you've run in several times before or they will contain bacteria that can infect wounds. That said dirty clothes can also contribute to the cause of chaffing as the dry sweat contained in the fabric can make you more likely to start sweating again when you run in them. Washing yourself will help too.
Lose Weight
Finally if its obesity or being overweight that's causing your chaffing then that's one more reason to begin the fight to get fit. Of course if you're overweight but can't run due to chaffing this makes it more difficult to start losing weight, so what you need to do is to eat fewer calories and combine this with other exercise that doesn't make you chaff. Examples are weight lifting, swimming, cycling (for most people), rowing, rock climbing and more.