Since ages, people have been in love with lavender for its exotic aroma and beauty. Today, lavender is used as a popular scent for laundry detergent and bath items. Usually, people don't conceive it as a product that can be consumed for health beneficial reasons. That being said, one would be surprised to know that there are heaps of health beneficial properties linked with lavender tea.
Although lavender tea is not a mainstream tea, it's sold by many companies out there. Lavender tea is prepared by adding two teaspoon of flowers in a mixture of boiled water. One can sweeten the tea with the aid of honey and consume it while it's hot. Let's have a look at some of the medicinal properties linked with lavender tea.
Anxiety Cure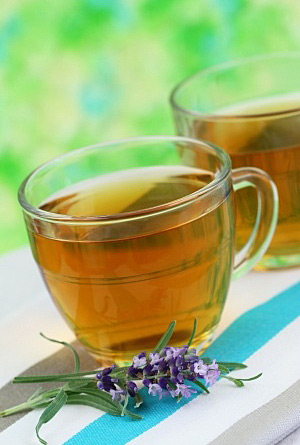 In this time-pressed world, getting affected by anxiety is a common thing. Consumption of lavender tea has a calming effect on a person's mind and body, thereby helping an individual deal with anxiety effectively. It's also used as a means to eradicate stress.
Gastrointestinal Issues
As mentioned earlier, the health benefits of lavender tea is far reaching and extends to our gastrointestinal system. Lavender tea is found to be beneficial in helping an individual deal with various gastrointestinal issues such as stomach problem, colic, bowel infection and flatulence.
Mood Stabilizing Effects
Lavender tea can help one deal with issues such as frequent mood swings. Individuals undergoing treatment for depression can also benefit a lot from lavender tea because of the mood stabilizing benefits it offers to the users. Apart from this, it also promotes to the overall wellbeing of an individual.
Skin Issues
When applied topically, lavender tea is found to be effective in curing various skin conditions such as cuts, wounds and sores. One can also use it to deal with bad breath.
Hair Rinse
Non-sweetened lavender tea can be used as a hair rinse to deal with the problem of hair loss. It can help an individual get rid of dandruff as well.
Insomnia
Since a long time, lavender has been in use as a sedative to help individuals suffering from sleep issues. Lavender tea consumed before bedtime can promote good sleep. Needless to say, individuals suffering from insomnia can benefit a great deal by consuming lavender tea.
Pain
Lavender tea can also help one get rid of pain linked with cancer, arthritis and backache. It's found to be effective against headache as well. Under medical supervision, it's one of the best herbal solutions that can help one deal with chronic pain.
Lavender is one of the most versatile herbs out there. Till the end of the First World War, it was used for treating wounds of the injured soldiers. English farmers placed lavender flowers on their hats to avoid certain health complications such as headache and sunstroke. Today, lavender is used for treating many other health issues. Consulting a health care professional is always a good idea before resorting to any herbal solution, especially if you are pregnant. In this manner, you will be able to play safe with your health.