It may be hard to believe, but for some adults, sleeping alone is a difficult thing to do. This mostly affects women, but men can be affected too. The fear of sleeping alone can cause sleep deprivation and reduce your quality of life.
Luckily, all hope is not lost, as with some persistence you can sleep more easily. A big part of eliminating the fear of sleeping alone is by figuring out why you're fearful in the first place. You maybe unconsciously have worries of the dark or even of the 'closet monster'. Lie down on the bed during the day and imagine it's late at night, figure out what are the real reasons of your fear. This will help you find effective solutions to your problem. For example, if you're afraid of the dark, you can make the room as bright as possible without making your sleep difficult.
Another reason why some adults afraid of sleeping alone is the lack of predictable routine, if a series of routine can help you sleep more easily, you'll feel more secure. You've to be firm to yourself and convince yourself that you mean business.
These are a few ways to help adults sleep alone more easily:
Decide What You Want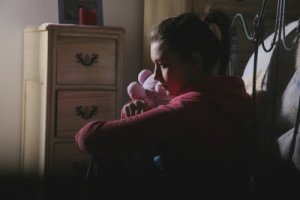 The first step in eliminating the fear of sleeping alone is to find an ideal sleeping habit. A few hours before bedtime, you should make your body and mind more relaxed, to remove anxiety and fear. For example, you should eat a moderate amount of food, watch funny TV shows, read hilarious books and have an enjoyable bath. You should also set up a waking up routine, for example have a light exercise while playing favorite songs. Knowing what you like and what you want can help you set up a good routine. If you're uncertain and have disorganized pre-sleeping activities, you'll be more likely to have the fear of sleeping alone.
Don't Take a Nap During the Day
If you have a hard time sleeping alone at night, you should skip nap. Struggling to have a sleep until 1 AM, while being plagued by fear isn't something you want to have each night. If you feel especially tired during the day, you should do something exciting, don't watch the TV on the couch as you could doze off easily. Being a little cranky and tired at night is better that being absent-minded and awake until 1 AM on the bed. If you're sleepy and tired, you won't have an extra energy to dwell on fear.
Go to Bed Early
When you sleep at 9 PM, it's more likely that you still hear sounds from outside, such as the traffic noise and the sounds of your neighbors talking. Man-made noises from outside of your room will help you to realize that you're not alone at all. Going to bed early is also much easier if you feel tired and didn't take a nap previously. By waking up early at 5 or 6 AM, you'll understand that quietness and darkness are not that frightening. For adults affected by the fear of sleeping alone, early sleeping time is a huge step of having a more enjoyable sleep.
Distract Yourself
If you're distracted by something emotionally exciting, fear won't have the chance of dominating your nights. When it's already 6 PM, you should start make your activities positive and relaxing. Step outside for a few minutes, read, listen to music and watch TV, just to make your mind occupied with good things. Of course, you shouldn't get too distracted or your mind will be too active for a quick, early sleep.
Expect Some Setbacks
Despite your efforts, sleep can still be hard to achieve sometimes. You may have a difficult day or you feel some physical discomforts. Perhaps, you're moving to a new apartment or house, and you feel like sleeping a strange house. If you've tried everything to do everything to sleep better and you still can't sleep easily, then you should have an understanding and patience with yourself. Give yourself enough time to let the stress to subside.
Call in the Reinforcements
Don't be too hard on yourself; asking a few friends to come over at weekend to sleep on your place won't hurt. Talk to a close friend about your problem and ask for his/her advices to help you eliminate the fear. You will be stronger if you know that someone is supporting you. Some wives may also have trouble sleeping alone when their husbands are working on a night shift. If this is the case, you should ask your spouse for support.
Reward Yourself
If you have grown more accustomed to sleeping alone, you should reward yourself. For example, on the weekend do something exciting that you rarely did. A little incentive is important to provide enough motivation to let you progress toward a completely fear-free sleep. Set a number of mini-goals on your progress schedule and also add corresponding rewards. You can buy yourself new shoes or dress, treat yourself a delicious lunch.
Add Some Noise
A little noise will help to reduce your fear of sleeping alone. While people with insomnia often play music that is combined with the sound of nature; in your case, you may need to play the sound of people talking. Turn on the TV, choose a 24-hour news channel, and adjust the volume. It is quite likely that you'll get bored and can sleep more easily.
Pray Before You Go to Sleep
If you're religious, a prayer before you go to sleep can be very effective in eliminating your fear. If you believe in God, you should be convinced that the divine power will protect you from anything.
Be Logical
Say if you're 25 years old, did you ever experience anything wrong when you slept alone? It's very likely that those nights passed quietly and things that you afraid of most never happened. So if they never happened in the past 25 years, why would they happen tonight?